Welcome to the Tom Clark Solutions weekly roundup!
Here is where we'll keep you informed on what is happening in Nevada politics.
---
The polls are coming.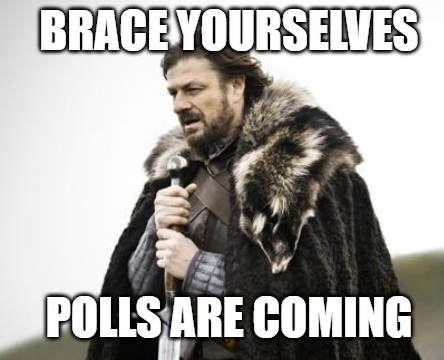 With less than 100 days from the General Election, expect to see more ads, receive more texts, and hear about a new poll on the daily. The latest poll on the 2022 statewide ballot questions from The Nevada Independent shows strong support for open primaries and ranked-choice voting (RCV), that is if they have an opinion. A lot of people don't, with nearly one third of the poll's respondents said they neither supported nor opposed the ballot measure.
While there remains uncertainty about RCV, Nevadans seem firm in their support for the Equal Rights Amendment. The poll found widespread support for the amendment, with 7 in 10 Nevadans responding they support the ballot question. Further, this support was found across the board, regardless of demographic. Men, women, Democrats, Republicans and racial and ethnic minority groups all indicated broad support for the amendment.
With the recent overturn of Roe v. Wade, the ERA could lead more people to the polls in Nevada, particularly women. We saw that happen in Kansas this week. The abortion referendum drove a record number of Kansans to the polls, with voter turnout this year higher than their 2016 and 2018 primary elections combined!
This is all to say, don't ignore the ballot questions. They can drive more voters to the polls than the candidates, especially during midterm elections. Will the ERA have the same effect in Nevada? We'll see.

Important Dates
| | |
| --- | --- |
| General Early Voting | October 22 – November 4 |
| General Election | Tuesday November 8, 2022 |
---
ICYMI
Nevada Governor and U.S. Senate debates scheduled without candidate participation confirmed.
 
Washoe County GOP split on whether to continue election fraud messaging
 
Recently retired Washoe County Registrar reflects: "pretty much the general consensus [is] that it's never been like this before. Elections have always had their challenges, but the challenges now are far above and beyond even what was seen in 2020."
 
NVSOS releases latest voter registration numbers:
Democratic Party active registered voters statewide decreased by 9,353 (-1.54%),
Republican Party active registered voters statewide decreased by 8,702 (-1.56%) and
Nonpartisan active registered voters increased by 2,254 (0.43%)
Find the latest voter registration breakdown of each race on our website.
---
ECONOMY
Nevada lawmakers OK $18.7 million in federal grants
The Interim Finance Committee approved more than 30 grants of coronavirus state local fiscal recovery funds last week, marking the completion of the $30 million Community Recovery Grant program. Funded by American Rescue Plan dollars, this grant program was designed specifically to support existing non-profits in Nevada that provide direct and immediate community services in the wake of the COVID-19 pandemic.

Click here to view the full list of grant recipients.

In shifting Nevada economy, manufacturing taking more prominent role
The manufacturing worker base grew to an all-time high of 5 percent of Nevada's employment landscape, an increase that signals a shift in the local economy as the state has now exceeded the number of jobs it had pre-pandemic but also as the hospitality industry remains 33,000 jobs short of pre-COVID levels.

"If you look at transportation, warehousing and utilities, it's up 18,300 jobs, and this is all statewide," said Bob Potts, deputy director of the Governor's Office of Economic Development (GOED). "Manufacturing is up 5,200 jobs above pre-pandemic [levels]."
---
EDUCATION
5th Largest School District Returns to the Classroom next week. Is it ready?
A bus driver shortage, record teacher vacancies and school safety are among the most pressing issues facing Clark County School District. Superintendent Dr. Jesus Jara sat down with Channel 3 News Las Vegas to discuss how the school district plans to address these problems for the 2022-23 school year, which begins this upcoming Monday.
---
ENVIRONMENT
House passes wildfire and drought package.
The U.S. House approved, 218-199, on Friday a package of bills to address the growing threat of wildfire and drought in the West.
It includes provisions to make permanent an increase in wildland firefighter pay, lift a cap on the federal cost share for post-fire recovery funding and authorize more than $1.5 billion for water infrastructure to help manage drought conditions.
 
The measure would ratify a 10-year plan for the U.S. Forest Service, authorizing $1.5 billion per year for the next decade for fire-related programs. It would also authorize spending on large scale forest projects the administration has already identified.
 
Geothermal plant wins appeal but pauses Nevada construction
The developer of a geothermal power plant facing legal challenges in Nevada has agreed to temporarily suspend construction of the project. In a ruling Monday morning, a three-judge panel of the 9th U.S. Circuit Court of Appeals rejected a bid by environmentalists and a Nevada tribe to reinstate an injunction that temporarily blocked work earlier this year on Ormat Nevada's plant 100 miles east of Reno. But hours later, lawyers for Ormat, the government, environmentalists and the tribe filed a joint stipulation in federal court in Reno outlining a voluntary agreement to suspend construction for at least 30 days — and perhaps until the end of the year.
---
HEALTHCARE
Washoe County Health District changes name to Northern Nevada Public Health
Officials from Washoe County, Reno, Sparks and others have recognized growing public confusion over Washoe County Health District's scope and responsibility, and therefore are adopting a new name that better reflects what the district does and who it serves.  The name change will be gradual, with full adoption in 2023.  
---
HOUSING
The Siegel Group under new scrutiny by county, AG office for evictions
In response to the scathing U.S. House panel report released last week concluding the Las Vegas based real-estate firm pursued aggressive tactics, including deception and harassment, in attempt to force tenants to leave, Clark County officials have pledged to "remedy any wrongs" committed and Nevada Attorney General Aaron Ford's office announced it would review the findings for possible violations of state laws and directives on pandemic evictions.

Las Vegas' housing market cooling faster than others
"Las Vegas' market has by no means screeched to a halt, as homes are still selling. But overall, buyers are pulling back as higher mortgage rates wipe out the cheap money that fueled America's unexpected housing boom after the pandemic hit."
Just over 27% of pending sales in the Las Vegas area fell through in June, the highest cancellation rate in the nation, according to Redfin, which reported that home sales nationally were nixed at the highest rate since the onset of the pandemic.
---
INFRASTRUCTURE
Feds: $401M will add high-speed internet in Nevada
The federal government is pledging $401 million in grants and loans to expand the reach and improve the speed of internet for rural residents, tribes and businesses in remote parts of 11 states from Alaska to Arkansas.

Internet provider Uprise LLC will receive more than $27 million to connect almost 4,900 people, 130 businesses, 22 farms and seven public schools in Lovelock and surrounding Pershing County, officials said. These federal funds will offer eligible Nevada residents a $30-per-month discount on their internet bill discount and up to $100 toward a computer.

Nevada submits electric vehicle charging plan to secure $38M in federal funding
Last week, the Nevada Department of Transportation (NDOT) submitted a comprehensive and strategic electric vehicle infrastructure deployment plan to the United States Joint Office of Energy and Transportation. Once approved, the plan will allow NDOT to receive millions of dollars in federal funding. Through the National Electrical Vehicle Infrastructure (NEVI) program contained within the Bipartisan Infrastructure Law — also known as the Infrastructure Investment and Jobs Act — NDOT will receive more than $38 million over the next five years.
---
OUTDOOR RECREATION
Clear Creek Trail complete from Spooner to Indian Hills
The new trail officially opened on July 7 after Carson Valley Trails Association spent the first six months of 2022 blazing eight miles between the Jacks Valley Road Trailhead and James Lee Park in Indian Hills.
 
With the completion of the latest leg of the trail, bicyclists, hikers and equestrians can travel the average 5 percent grade 21.7 miles from Spooner Summit to the park, an altitude difference of 2,565 feet.
 
A celebration of the trails will be at the James Lee Park trailhead on Oct. 15..
---
What we're doing this Interim
The 2021 Nevada Legislature passed Assembly Bill 443, Legislation that fundamentally changed the way the Legislature operates between Sessions. The newly formed Interim Standing Committees have begun meeting, hearing overviews of their mission and setting agendas for the next eleven months.
Click here to view a list of upcoming Joint Interim Standing Committee meetings.
Click here to view the list of Bill Draft Requests (BDRs) for the upcoming 2023 Legislative Session.
2021 Redistricting Maps
The new boundaries would give 14 of the 21 state Senate districts and 27 of the 42 Assembly districts a voter registration advantage for Democrats over Republicans of more than 4.5 percent.

The Nevada Independent
Please see the links below to view the new district lines for Nevada Assembly, Senate and Congressional delegation.
---
Want to receive these roundups in your inbox? Sign up for our weekly newsletter below! 👇