Welcome to the Tom Clark Solutions weekly roundup!
Here is where we'll keep you informed on what is happening in Nevada politics.
---
Happy Fall Y'all!
Happy first day of Fall! I hope everyone had a wonderful summer. My last days of summer were spent in Lamoille at the Ruby Mountain Mental Health Summit, hosted by our client MedX Air One, rural Nevada's emergency air medical transportation system. It was a great event in which mental health stakeholders and experts came together to discuss what we can do to address the mental health crisis in rural Nevada. A lot learned, ideas exchanged, and friends made.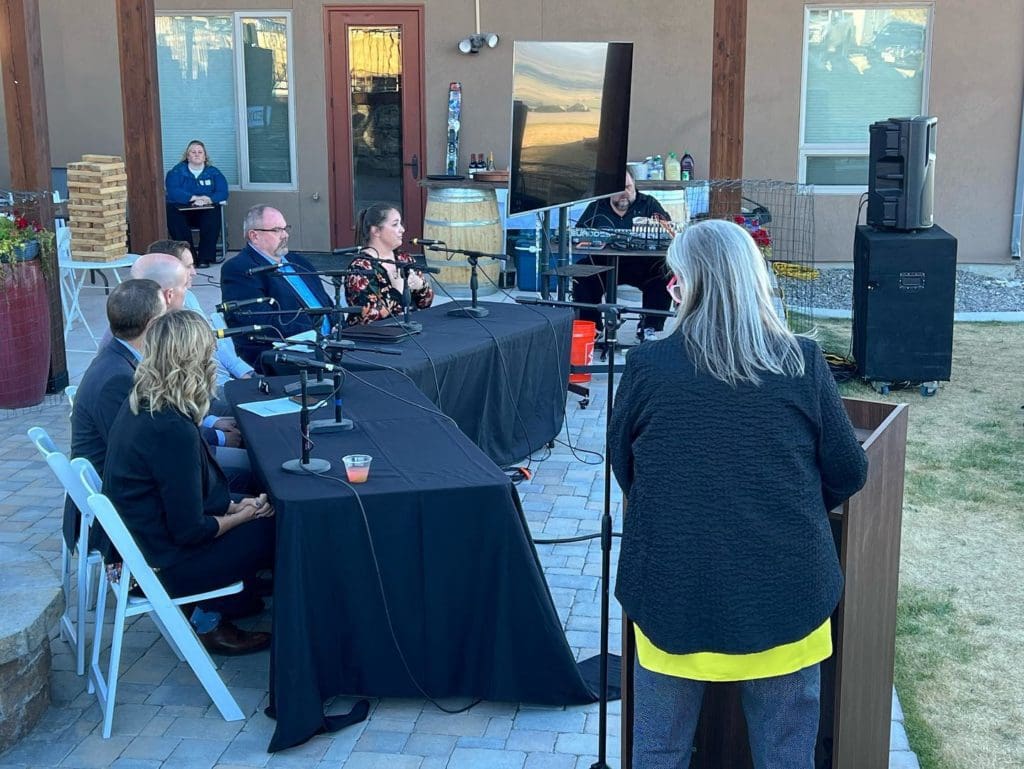 Important Dates
| | |
| --- | --- |
| General Early Voting | October 22 – November 4 |
| General Election | Tuesday November 8, 2022 |
---
ICYMI
Nevada likely to remain top state for most women in Legislature
Championship parade for Aces to be hosted on Las Vegas Strip
Las Vegas City Council votes to allow cannabis lounges
Clark County Begins Mailing Sample Ballots this Saturday
---
EDUCATION
Democratic lawmakers propose auditing the Clark County School District
Democratic lawmakers have submitted a bill draft request (#447 for those curious) for the upcoming Legislative Session to conduct a legislative audit of the Clark County School District as a way to address the mounting concerns expressed by teachers and community members.

A legislative audit would give lawmakers a chance to obtain direct answers from the district to better address questions they've been fielding from the community, such as concerns about transportation challenges and the health insurance costs for teachers. The BDR will come before lawmakers in the coming 2023 session, and if approved, would likely be completed sometime in 2024. The proposal also comes amid calls to break up the state's largest school district of about 300,000 students.
---
ENVIRONMENT
Nevada officials take another shot at killing Yucca Mountain Project once and for all
The Nevada Current article outlines the current state of Yucca Mountain. On Tuesday, Gov. Steve Sisolak and the Nevada Agency for Nuclear Projects announced they filed a legal motion that would allow the state to challenge all federal licensing for the Yucca Mountain site.

If successful, the legal move could provide the basis for a final decision on the merits of disapproving construction authorization for the controversial site, according to Nevada Attorney General Aaron Ford. Along with the motion filed, the state also launched a website with explanations on the flaws of the project and the policy history that led to the project's creation.

Biden admin allocates $5.9 million for wildfire resilience in Nevada
More than $5.9 million in funding will go to Nevada to improve the state's wildfire resilience, the Department of the Interior announced Wednesday. The funding will come from President Biden's Infrastructure Law and will go towards fuel management projects across more than 14,000 acres of land across the state. $103 million has been allocated nationally for helping mitigate fire risk.
Yerington copper mine in exploratory stage
Canadian mining company Hudbay Minerals recently presented its plans for its copper deposit for its Mason Project, still in its exploratory stage, to the Lyon County Commission. Hudbay's project in Yerington is in its early stages to determine the Mason deposit's mineralization.
---
HEALTHCARE
Sisolak Launches Free Prescription Drug Discount Card for Nevadans
Today, Governor Sisolak launched a free prescription drug discount card for all Nevadans, regardless of age, income or citizenship – ArrayRx. Once you sign up and receive your card, you can use it immediately at participating pharmacies. The card is valid at most major pharmacies, but you are encouraged to double check eligibility here.

You can learn more at ArrayRxCard.com.
---
HOUSING
Reno-Sparks median home price falls for 3rd straight month amid cooling real estate market
Since The Federal Reserve has enacted multiple interest rate increases the once red-hot housing market in the Biggest Little City has ultimately slowed down.

"The market in Reno-Sparks continues to cool down with fewer homes being listed each month," said Reno/Sparks Association of Realtors President Sarah Scattini. "But it is giving more chances for people to enter the market."
The Reno-Sparks market reported 595 new listings in August, down 20% from the same month last year. The market is still slightly up for the whole year with 5,173 new listings recorded compared to 4,955 at the same point in 2021. The decline in the median home price in August was fueled by Sparks, which saw its median sale price fall to $565,686 from $574,510 in July.
---
OUTDOOR RECREATION
U.S. Department of Commerce Invests $1.9 Million to Boost Business and Job Growth in the Outdoor Recreation Sector in Boulder City, Nevada
U.S. Secretary of Commerce Gina Raimondo announced this week that the Department's Economic Development Administration (EDA) is awarding a $1.9 million grant to the Nevada Division of Outdoor Recreation, Carson City, Nevada, to support the growth of the tourism sector in Boulder City. This grant is funded by the American Rescue Plan.
This grant will support installation of 2,560 light pollution-reducing lighting fixtures in Boulder City, improving night sky-viewing and the development of tourism-related businesses. The EDA investment will be matched with $617,898 in state and local funds and is expected to create 21 jobs and generate $400,000 in private investment.
---
What we're doing this Interim
The 2021 Nevada Legislature passed Assembly Bill 443, Legislation that fundamentally changed the way the Legislature operates between Sessions. The newly formed Interim Standing Committees have begun meeting, hearing overviews of their mission and setting agendas for the next eleven months.
Click here to view a list of upcoming Joint Interim Standing Committee meetings.
Click here to view the list of Bill Draft Requests (BDRs) for the upcoming 2023 Legislative Session.
2021 Redistricting Maps
The new boundaries would give 14 of the 21 state Senate districts and 27 of the 42 Assembly districts a voter registration advantage for Democrats over Republicans of more than 4.5 percent.

The Nevada Independent
Please see the links below to view the new district lines for Nevada Assembly, Senate and Congressional delegation.
---
Want to receive these roundups in your inbox? Sign up for our weekly newsletter below! 👇