Welcome to the Tom Clark Solutions news roundup!
Here is where we'll keep you informed on what is happening in Nevada politics.
---
It's been a while. We know. We've been busy!
We are very excited to make the following announcements:
Shelly Capurro Joins Tom Clark Solutions as Partner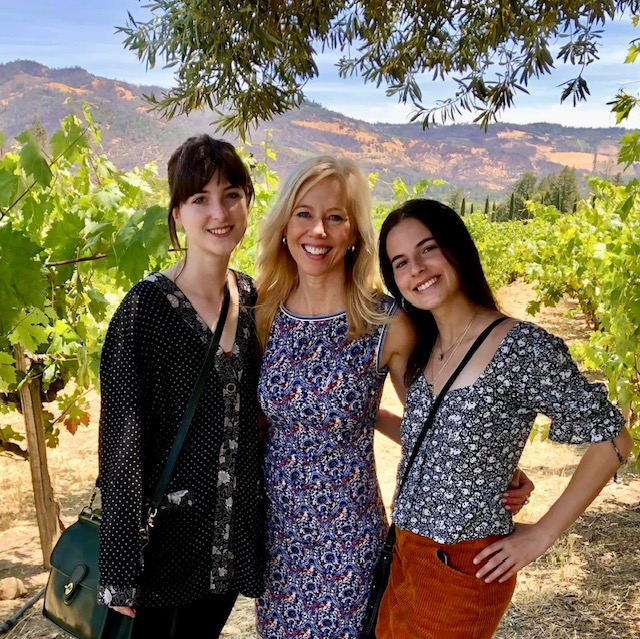 I've had the pleasure of knowing and working with Shelly for more than a decade. She's a fierce advocate for her clients, has tremendous personal and political relationships in Nevada and is credible, professional and a really cool, great person to have on the team.
New Office Location!
We're movin on up! Tom Clark Solutions was born in and has existed in the "Bunker" since 2013. I call it the bunker simply because it was in the basement under a deli and a bar on California Avenue in Reno. Limited by just two small windows the cavernous space served Tom Clark Solutions very well for the last ten years. A lot has happened in the Bunker and I'll miss it though I don't think the Tom Clark Solutions team was as enamored by the space as I am. The Bunker is available for rent! Great location and great price. Call me for details.
Our new location is much more spacious and has wonderful views of the Sierras and downtown Reno through lots and lots of windows. The team has great offices, we have a conference room space and plenty of natural light. If you find yourself near the fantastic restaurant, The Washoe Public House, we're next door. Stop by and say hi!
New Address:
Tom Clark Solutions
241 Ridge Street
Suite 350
Reno, NV 89501
-Tom
Important Dates
| | |
| --- | --- |
| 2024 Nevada Presidential Preference Primary | February 6 |
| 2024 Nevada Republican Presidential Caucus | February 8 |
| 2024 Primary Election | June 11 |
| 2024 General Election | November 5 |
---
2024 ELECTION
The filing period for the Presidential Primary ended on Monday, October 16th. Of the 20 candidates who have filed, 13 Democrats and 7 Republicans. Here is the list of candidates on the Secretary of State's website. The 7 Republicans who chose to be part of the primary cannot also participate in the Nevada Republican Party Presidential Caucus happening two days later, dubbed the "First In The West Caucus." As it stands right now, there are five Republican Candidates choosing to participate in the caucus. Here is the breakdown:
Confused? You're not alone. The Nevada Independent has an in-depth explainer on the differences between the two processes, and why we're even having two processes in the first place.
Nevada Only Swing State Biden Polling Better Than Trump
In a new poll conducted by Morning Consult based on a survey of voters in swing-states, the contest between the two likely major-party nominees is very close 13 months from Election Day. Biden is trailing Trump in each of the key electoral states we tested except Nevada, while he is tied with his predecessor in Michigan.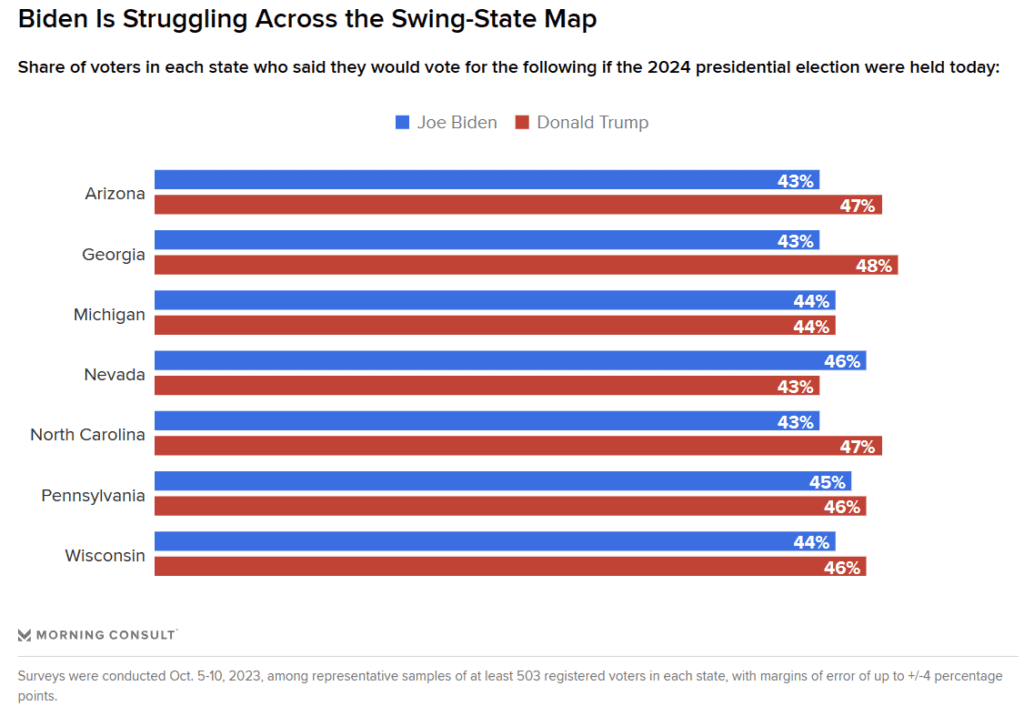 ---
ECONOMY
Nevada unemployment rate stays flat in September
Nevada's unemployment rate, which has been the highest in the nation, remained unchanged from August to September, according to new figures from the Department of Employment, Training, and Rehabilitation (DETR). September marked the ninth straight month that the labor force gained jobs and also the first time in the state's history that the labor force exceeded 1.6 million jobs.
IRS will launch free online tax-filing pilot in 13 states next year, including Nevada
The Internal Revenue Service (IRS) plans to launch a pilot program that would allow taxpayers in 13 states, Nevad included, to electronically file their taxes directly with the agency for free during the 2024 tax season. The agency said it anticipates that the direct tax-filing program will be able to cover several key sources of income and tax credits, including W-2 wage income, Social Security income, the Earned Income Tax Credit, the Child Tax Credit, standard deductions and student loan interest deductions, among others. The pilot program will be limited to taxpayers in the 13 participating states who have "relatively simple returns," the IRS noted.
---
EDUCATION
North Las Vegas appoints city councilman, teacher to school board
AB175 from the 2023 Nevada Legislative Session empowered Clark County and its three largest municipalities to appoint a nonvoting member to the school board; North Las Vegas chose a CCSD employee. Typically, a Clark County School District employee cannot be a member of the school board.
However, usual guidelines fell by the wayside at Wednesday's North Las Vegas City Council meeting when Mayor Pamela Goynes-Brown nominated Councilman Isaac Barron, a Rancho High School teacher, as its nonvoting member on the board.
Barron has been on the city council since June 2013. He has lived in the Las Vegas area his entire life and is an award-winning educator at the Clark County School District where he currently teaches high school social studies at Rancho. He previously taught English language learners at French Ford Middle School.
---
ENERGY
Casino giants slam NV Energy over $34 million in June rate request
Lawyers for MGM Resorts International, the Venetian, Wynn Resorts, Station Casinos and Boyd Gaming are arguing the state should reject NV Energy's bid to have consumers pay an extra $34 million a year for capital projects. The companies say the utility is going back on its word about charging ratepayers for Greenlink, a $2.5 billion project to build new power lines to carry solar energy. The casinos are challenging NV Energy's attempt to have ratepayers shoulder the development costs. Even the Southern Nevada Water Authority (SNWA) is on record in its opposition.
NV Energy dismisses these arguments as "immaterial" and says Greenlink isn't even the project they're talking about. "Greenlink is a sizeable project but by far not the only project," NV Energy said in its own brief, filed Monday afternoon.
---
OUTDOOR RECREATION
Reno Named One of the 'Happiest Places to Live'
Outside Magazine named Reno as one of the '15 Happiest Places to Live in the U.S." based on the city's outdoor accessibility for all, affordability, safety, diversity, and freedom for residents to be who they are.
Once known for gambling and easy divorces, Reno is now a modern boomtown, with a whitewater park, multiple climbing gyms, a monthlong summer arts festival, a number of craft breweries, and urban art installations handed down from Burning Man, the late-summer gathering in the Black Rock Desert 140 miles north. The Biggest Little City in the World's ample public land and mountain vibe make it a fun town for a populace hankering for just those qualities.
---
Want to receive these roundups in your inbox? Sign up for our weekly newsletter below! 👇
Welcome to the Tom Clark Solutions news roundup!
Here is where we'll keep you informed on what is happening in Nevada politics.
---
The Nevada legislature is limited to 120 days so technically day 60 is the halfway point. In legislative time, the real halfway point was yesterday, the deadline for bills to be passed out of the "House of Origin."
If a bill was successful and is alive today it has probably been amended, declared exempt, or is simply not consequential. If a bill didn't survive, you can bet that legislators and lobbyists are scrambling to get a copy of the "Index and Tables", a legislative digest that lists by subject or statute every bill introduced this session. This important tool will tell you if a bill survived that you may be able to amend with language from your "dead" bill.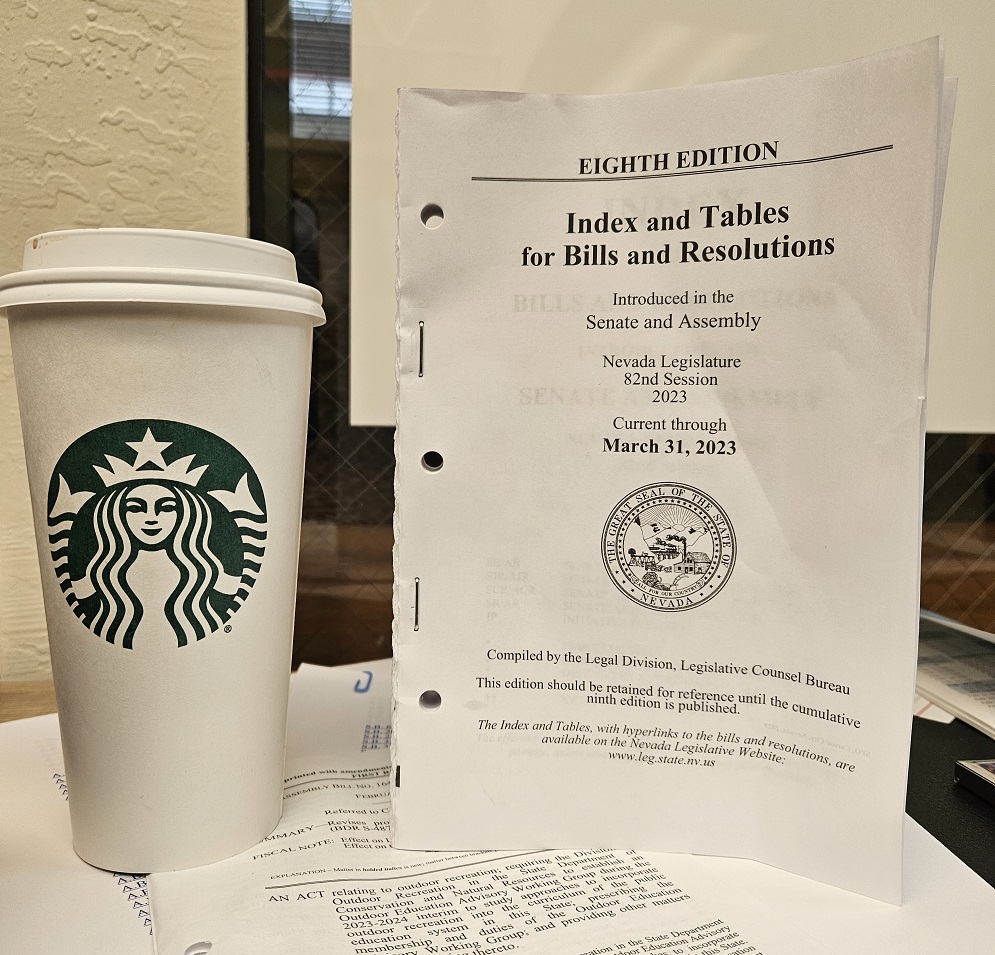 We are definitely on the downward slope of this legislative session. The run to get bills out of committee and the "Second House" is shorter than the first. The theory is that the bill has been debated, vetted, amended so it should be smooth sledding. History tells us that many lobbyists and legislators will get out over their skis and amendments will be shredded.  
I love this time of year in Carson City. The sun is shining, folks are outdoor dining. But like the Northern Nevada weather, don't be surprised if there are a few more storms before sine die.
-Tom
Important Dates
Economic Forum
May 1
Start Resolving Budget Differences
May 8
Committee Passage (Second House)
May 19
Second House Passage Deadline
May 26
Budget Bills Introduced &
Exempt Bills from Committee
May 31
Last Day of the 82nd Session (sine die)
June 5
---
ICYMI
Court sanctions commissioner for deletion of texts in Red Rock dispute
Court hearing scheduled in GPS tracker lawsuit
Biden makes 2024 presidential run official
Adam Laxalt joins PAC supporting DeSantis
---
#NVLEG
Potential deal for A's relocation to Las Vegas could rely on $500 million in public financing
Lombardo drops bid to create cabinet secretary positions in governor's office
Bills that failed to meet First House Passage deadline
---
EDUCATION
The Governor's Restorative Justice bill, AB330, passed out of the Assembly with 38 Yeas and 4 Nays, all southern Nevada Democrats. This bill is part of Governor Lombardo's legislative policy agenda for this Session. 
---
ENERGY
NV Energy bills projected to skyrocket in July
The average NV Energy bill for July is expected to reach $470 in Southern Nevada, up from $337 last year, and the average bill in Northern Nevada is projected at $212, up from $159 in 2022, says Nevada State Consumer Advocate Ernest Figueroa. "Due to public policy costs, past legislation and high natural gas prices, these rates will continue to go up for the foreseeable future," Figueroa testified this month before lawmakers.
In addition to rate hike requests to cover capital costs for Greenlink, is the utility's plan to recoup costs for building, operating and maintaining a network of electric vehicle charging stations throughout the state at a cost of $100 million to be borne by ratepayers, those with and without EVs. Ratepayers will be charged a fee based on their residential power usage.
---
GAMING
Gaming revenue declines in March despite state's 25th straight billion-dollar month
March gaming revenue topped more than $1.312 billion statewide — the 25th consecutive month the state surpassed the $1 billion mark. But the result was just the third time in the past 12 months the state's casinos recorded a decline in gaming revenue figures from the previous year, according to figures released this week by the Gaming Control Board. On the Strip, gaming revenue declined 2.9 percent in March to almost $724.6 million, which analysts blamed on high-end baccarat play.
Record-breaking snowfall in Northern California prevented Reno and Lake Tahoe's largest customer segment from visiting Northern Nevada's casinos and resorts during the first three months of the year. Gaming revenue in Washoe County fell more than 6 percent in March with Reno revenue down 7.4 percent. Casinos in North Lake Tahoe saw a 17.7 percent decline and the South Lake Tahoe market's gaming revenue was off 34 percent.
---
HOUSING
Cortez Masto-led push yields $4.5 million in new affordable housing funds for Nevada
U.S. Senator Cortez Masto (D-Nev.) announced that the Federal Home Loan Bank of San Francisco (FHLB-SF) is directing $4.5 million in targeted funding to the state of Nevada to help build more affordable housing and support down payment assistance. Federal funds will provide 7,129 new affordable units to Nevada families this year with a similar number expected next year – nearly double the state's pre-pandemic amount.
---
HEALTH CARE
Fatal fungus outbreak worries Nevada lawmakers, more help wanted
Nevada's entire congressional delegation is calling upon the federal government to do more to fight a potentially lethal fungus causing the largest outbreaks in the country at Southern Nevada hospitals and long-term care facilities.
In a letter Friday to the director of the Centers for Disease Control and Prevention, the delegation asks the federal public health agency to take decisive action against fungus Candida auris and to "swiftly deliver necessary resources to the public health professionals and health care providers in Nevada on the front lines of this outbreak."
Nevada Medicaid Warns of Renewal Scams
Scammers are trying to take advantage of Nevadans who may need to reapply for Medicaid or transition to other insurance, as the state unwinds from the federal public health emergency.
"Medicaid renewals have restarted in Nevada, and we may be reaching out to remind you to complete and return any necessary paperwork to maintain your health care coverage," said Nevada Medicaid Administrator Stacie Weeks. "Nevada Medicaid will never charge you or ask you for money to update your information or to renew your coverage."
---
INFRASTRUCTURE
Las Vegas-to-California bullet train gets bipartisan backing
A bipartisan congressional group from Nevada and California asked the Biden administration Monday to fast-track federal funds for a private company to build a high-speed rail line between Las Vegas and the Los Angeles area.
All six of Nevada's elected federal lawmakers and four House members from California sent the letter to U.S. Transportation Secretary Pete Buttigieg. They said they're on board with a proposal from Brightline West to spend more than $10 billion to lay tracks along the Interstate 15 corridor.
---
OUTDOOR RECREATION
NDOR names Denise K. Beronio as new Administrator
The Nevada Division of Outdoor Recreation (NDOR) is excited to announce that Denise K. Beronio has been appointed as Administrator, effective April 11. She will take over for Colin Robertson, who resigned as Administrator in February 2023 to return to his passion working for the Nevada Museum of Art. As Administrator, Beronio will help promote Nevada's outstanding outdoor recreation opportunities and the conservation of its natural environment.
"Denise Beronio is a long-time Nevadan and a life-long outdoor advocate," said NDCNR Director James Settelmeyer. "She has always supported conservation and outdoor recreation through her work and her passion for wildlife. I am confident she will help Nevada continue to thrive as an accessible, equitable, and unique outdoor destination."
---
2023 Legislative Session Resources
Click here to view a list of Bills of the 2023 Legislative Session.
Click here to view the list of upcoming committee meetings.
Click here to view the 120-Day Legislative Calendar.
---
Want to receive these roundups in your inbox? Sign up for our weekly newsletter below! 👇
Welcome to the Tom Clark Solutions news roundup!
Here is where we'll keep you informed on what is happening in Nevada politics.
---
One Deadline Down, Four More to Go
This past Friday, April 14, was the deadline for a bill to be passed out of its Committee of Origin, meaning that if a bill has not been voted out of its committee nor been granted a deadline exemption, "no further action [is] allowed," which is legislative jargon for "this bill is dead."
Friday's deadline ended the legislative journey for 239 bills, i.e., 25% of the 955 bills introduced this session are no more. For the most part, these bills that failed to meet the deadline will not be seen again, though never say never. Legislators, lobbyists and advocates alike will try their darndest to resurrect their policies that died, typically in the form of an amendment to a bill that is alive and well. As the saying around the building goes, no bill is completely dead until sine die.
The next deadline is First House Passage on April 25th, meaning the bill must be passed out of its House of Origin in order to continue on in the legislative process. While these deadlines cull lots of legislation, plenty of bills have been granted deadline exemptions,154 to be exact, and even more deemed eligible for exemption (75 Senate bills and 170 Assembly bills), meaning these bills will become exempt once they are referred to the Senate Finance Committee or Assembly Ways & Means Committees, aka the money committees.
There are less than 50 days left in this Session and things are heating up. They money committees are now regularly meeting on Saturdays, the Economic Forum (where legislators learn how much money the state can spend for the next biennium) meets in less than two weeks, and the Governor's office has started indicating which bills will be vetoed, thus the beginning of the horse trades to be had between the Governor and the Legislature to achieve their respective policy agendas.
-Zoë
Important Dates
| | |
| --- | --- |
| First House Passage Deadline | April 25 |
| Committee Passage (Second House) | May 19 |
| Second House Passage Deadline | May 26 |
| Last Day of the 82nd Session (sine die) | June 5 |
---
ICYMI
2024 Senate Race Ratings: Nevada Leans Democrat
Kamala Harris visits UNR, talks reproductive health with Mayor Hillary Schieve
I was very fortunate to have received an invitation to this event, which President Sandoval stated is the first official White House event hosted at the University of Nevada, Reno. (Based on conversations with our in-house UNR expert Keith Lee, the last time a sitting President or VP has visited UNR was when President Reagan visited to support the GOP ticket for the 1982 election.)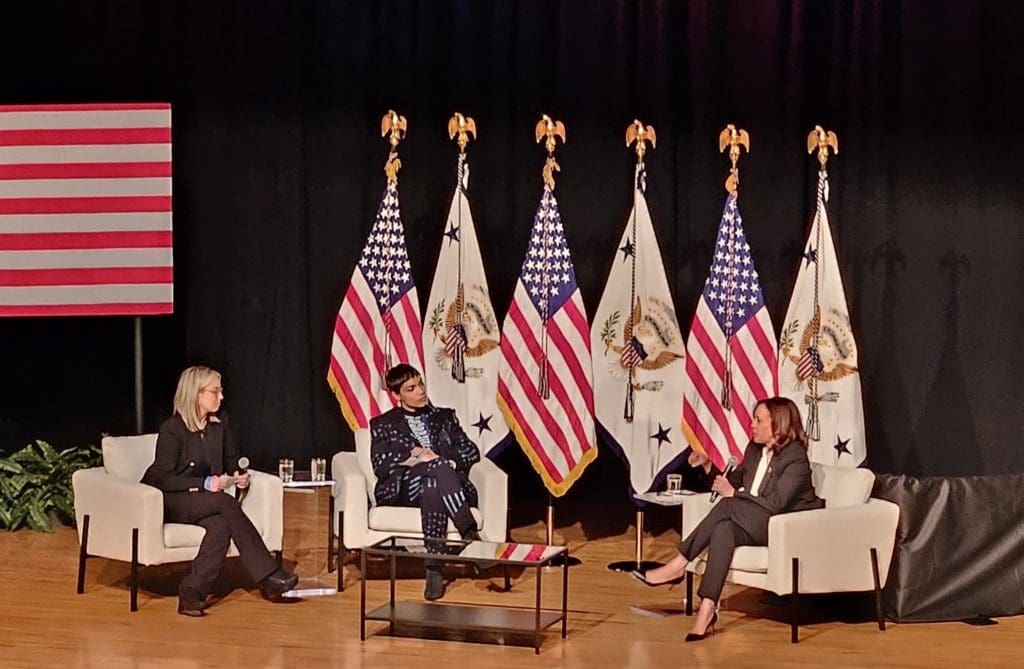 Mayor Hillary Schieve, Actress Rosario Dawson and Vice President Kamala Harris
at Nightingale Concert Hall on April 18, 2023. - Zoë
---
#NVLEG
By the numbers: What bills lived, died after Legislature's first major deadline
'That's who Heidi is'; 18 years after starting career, Seevers Gansert again takes leading role
State Democrats Unanimously Pass Resolution Adding Reproductive Rights to the Nevada Constitution
---
EDUCATION
Lawmakers vote to roll back restorative justice law, with lone legislator opposed
A pair of bills, including one from Gov. Joe Lombardo, that could repeal parts of a so-called restorative justice law from 2019 that placed restrictions on student suspension and expulsion were approved by the Assembly Education Committee last Thursday. A single lawmaker — Assemblywoman Clara Thomas (D-North Las Vegas) — voted against the bills, citing her desire to see students rehabilitated before they become part of the criminal justice system. The bills were in reaction to escalating, and at times violent, student behavior. Some cases resulted in injuries to teachers and school staff. Some school officials have said the 2019 bill limits the consequences students could face for violent acts.
Nevada State Board of Education discuss changing high school start times during workshop
Right now, all major high schools start at 8 a.m. or earlier. During the workshop this past Saturday, Nevada State Board of Education President Felicia Ortiz said studies show that later start times allow teenagers to get more sleep, resulting in better grades and attendance. This is the first step in the process.
---
ENERGY
Western Transmission Cleared to Move Alternative Energy from Wyoming to Nevada
The Bureau of Land Management (BLM) approved a 732-mile transmission line across federal lands to move wind energy to Nevada from Wyoming. BLM issued the notice to proceed (NTP) for the TransWest Express Project (TWE), which would carry 3 GW of capacity generated from the largest onshore wind generation project in North America, according to BLM. Denver-based TransWest Express LLC heads the project.
---
ENVIRONMENT
Federal officials lay out options for Colorado River cuts if no consensus is reached
Earlier this week, federal water officials released the draft of a much-awaited document outlining potential major short-term cuts to stabilize a Colorado River shrinking due to overuse and drought — unless the seven states that rely on the watershed come up with an alternative. Officials made it clear that they still wanted the states to reach a consensus on what painful cuts might look like as any action that is taken by the federal government faces a risk of litigation.
John Entsminger, head of the Southern Nevada Water Authority, called the draft "the next step in the process to find workable solutions to protect water supplies for 40 million Americans and more than a trillion dollars in economic activity."
---
GAMING
Lottery passes Assembly as lawmakers weigh several changes to Nevada Constitution
On Monday, the Assembly passed Assembly Joint Resolution 5, which would repeal the state's 159-year-old constitutional ban on lotteries. The vote was nearly along party lines, with Democratic Assemblymembers in support and Republicans in opposition. Assemblymember Shrondra Summers-Armstrong was the only Democrat to vote in opposition. As with any constitutional amendment originating in the Legislature, AJR5 must pass two successive legislative sessions and then be approved by a simple majority of voters at the next general election before implementation. Sponsor Assemblyman C.H. Miller's proposal is now in the Senate.
Commissioners could chop more than a dozen Nevada gaming regulations
On Thursday, the Nevada Gaming Commission discussed 16 regulations designated for elimination as state gaming regulators seek to complywith a January directive issued by Gov. Joe Lombardo tasking all state agencies with reviewing regulations and recommending at least 10 for removal by May 1.
The regulation subsections are within nine of the state's 37 gaming regulations and, under state gaming law, the control board and gaming commission will have to hold follow-up hearings to officially remove the subsections.
---
OUTDOOR RECREATION
U.S. Interior Secretary celebrates Nevada's new national monument
Last week, U.S. Interior Secretary Deb Haaland joined members of Nevada's congressional delegation and tribal leaders to celebrate Avi Kwa Ame, the state's newly designated national monument, saying the recognition of the desert mountain heralds a "new era" of environmental conservation in which the federal government and tribal nations will work together to maintain protected areas.
PHOTOS: Ice Age Fossils State Park, Nevada's newest, nears completion
Ice Age Fossils State Park in North Las Vegas is nearly complete, and the finish line is closer than ever thanks to a $3.5 million donation to the state from the Leona and Harry Helmsley Charitable Trust. The park is not open to the public yet, although that's expected by the end of this year. When it opens, the visitors center will offer hikers information about the site, its history and a re-creation of how it looked at one point in time — which was wet, cool and marshy.
---
2023 Legislative Session Resources
Click here to view a list of Bills of the 2023 Legislative Session.
Click here to view the list of upcoming committee meetings.
Click here to view the 120-Day Legislative Calendar.
---
Want to receive these roundups in your inbox? Sign up for our weekly newsletter below! 👇
Welcome to the Tom Clark Solutions news roundup!
Here is where we'll keep you informed on what is happening in Nevada politics.
---
Pies, Ides and Paddy's
It has been quite an eventful week at the Legislature. Children's Week kicked off on Monday, pies in all shapes and forms were enjoyed throughout the building Tuesday, the Ides of March came and went where absolutely nothing bad happened, March Madness brackets are in full swing, and tomorrow is the last Friday lawmakers have to introduce their bills this Session before the deadline on Monday, March 20, so I imagine there will be plenty of drinking outside the usual St. Paddy's festivities.
After the 20th, the Legislature will become even busier! The next deadline is March 27, the last day for Committees and other requesters to submit their bills for this Session. After the 27th, nearly all of the bills for this Session will have been introduced, though there are exceptions to every rule. Budget bills are typically introduced toward the end of Session and have different deadlines. To read more on the official rules of the Senate and Assembly for legislative measures, click here.
Fun fact: The U.S. Bowling Conference Open Championship, currently hosting its 199th edition of the event in Reno at the National Bowling Stadium, lasts 143 days, which is 23 days longer than Nevada's legislative sessions. So if any state lawmaker would like to be a bowling champion in the future, perhaps plan to compete in even-numbered years.
-Zoë
Important Dates
| | |
| --- | --- |
| Last Day for Bill Introductions | March 27 |
| First House Passage Deadline | April 25 |
| Second House Passage Deadline | May 26 |
| Last Day of the 82nd Session (sine die) | June 5 |
---
ICYMI
Washoe County Commission Chair Vaughn Hartung resigns
DCCC and NRCC announce key House races for 2024, both include Nevada
Whitmer ousted as Monroe-Moreno wins control of Nevada Democratic Party
---
#NVLEG
In State of the Judiciary, Chief Justice Stiglich pushes for judicial budget reforms
Why did Nevada lawmakers delete a committee video?
Freshman Orientation: Assemblyman Ken Gray supports smaller government
---
CANNABIS
Vegas council approves cannabis consumption lounge ordinance, keeps distance requirements
Las Vegas city officials made two changes before approving the consumption lounge ordinance during a meeting on Wednesday, with the city potentially issuing business licenses as soon as June.
The Council maintained the most contested portion of its ordinance governing cannabis consumption lounges — a requirement that lounges are at least 1,000 feet apart, although city leaders will be allowed to waive it with a city council vote.
---
EDUCATION
Nevada Childcare Fund
This week is Children's Week at the Nevada Legislature, a weeklong event focused on raising awareness of children's policy issues related to education, children's mental and physical health and safety issues. It also marked the kick-off event for the Nevada Childcare Fund, a program created by the Nevada Division of Health and Human Services and The Children's Cabinet to help parents and childcare providers gain access to funding and other resources to make childcare easier and more affordable. Learn more at the link above.
Bill to change Nevada State College to Nevada State University introduced
Yesterday, the Senate introduced SB273, a bill sponsored by a handful of legislators that proposes to change the name of Nevada State College to Nevada State University. This bill introduction follows last week's 9-4 vote by the Board of Regents that kicked off the official name change process.
---
ENERGY
Regulators approve NV Energy gas plant, despite criticism from clean energy groups
The decision by the Public Utilities Commission of Nevada will give the state's largest energy provider a green light to spend about $350 million to build a new natural gas-fired power plant in Southern Nevada and connect what is known as a "peaking" power plant because it is only turned on when demand for electricity peaks.
---
ENVIRONMENT
Henderson City Council cuts water use for golf courses, lowers water rates
Last week, the Henderson City Council voted unanimously to pass an ordinance that amends the city's municipal code to reduce how much water golf courses are allowed to use from 6.3 acre-feet per year for each irrigated acre to 4 acre-feet per year. The changes will apply to local golf courses starting Jan. 1, 2024.
The reduced water allotment applies to all water used to irrigate golf courses, as well as on-site lakes, ponds, reservoirs and any irrigated outdoor areas on property that are landscaped and not taken up by a buildings, walkways, roads, pavement or parking lots, according to the ordinance.
ABB220: Las Vegas water agency seeks power to limit residential use
While some agencies across the U.S. West tie increased water use to increased cost, Nevada could be the first to give a water agency — the Southern Nevada Water Authority — the power to restrict what comes out of residents' taps in state statute to about 30,000 gallons above the average use. It's aimed mostly at the top 10% of water users that use 40% of the water in the residential sector, spokesperson Bronson Mack said.
"It's a worst case scenario plan," said the bill's sponsor, Democratic Assemblyman Howard Watts of Las Vegas, of the residential limit. "It makes sure that we prioritize the must-haves for a home. Your drinking water, your basic health and safety needs."
---
HEALTH CARE
Senate Majority Leader to Introduce Constitutional Amendment to Protect Abortion Rights, Reproductive Freedom
Nevada Senate Majority Leader Nicole Cannizzaro announced Thursday she will introduce a constitutional amendment ensuring access to abortions. Cannizzaro also says her proposal would include protections for access to birth control, prenatal care, childbirth, postpartum care, vasectomy and tubal ligation, miscarriage management, and infertility care.
If it passes during the 2023 and 2025 legislative sessions, the amendment would appear on the 2026 general election ballot.
---
INFRASTRUCTURE
Las Vegas tourism board to consider selling Strip land for $125 million
This Tuesday, the Las Vegas Convention and Visitors Authority will consider selling 10 acres of land on the north end of the Strip for $125 million. The 10 acres are located at the southeast corner of Las Vegas and Elvis Presley boulevards, which was originally part of the Riviera's footprint. 65SLVB LLC is listed as the buyer, led by developers Brett Torino and Paul Kanavos. According to the tourism board's agenda, the LVCVA plans on using proceeds from the sale on its Convention Center renovation project. The sale must close by Sept. 11 this year.
---
2023 Legislative Session Resources
Click here to view a list of Bills of the 2023 Legislative Session.
Click here to view the list of upcoming committee meetings.
Click here to view the 120-Day Legislative Calendar.
---
Want to receive these roundups in your inbox? Sign up for our weekly newsletter below! 👇
Welcome to the Tom Clark Solutions news roundup!
Here is where we'll keep you informed on what is happening in Nevada politics.
---
Inclement Weather Day (AKA Snow Day for Adults)
Northern Nevada has been facing some pretty intense weather lately; the National Weather Service has issued a winter storm warning for the area until 4pm Wednesday. Winter storms are nothing new to the region, though this most recent one has been rolling in with a vengeance. Weather conditions have been so bad that the Nevada Legislature closed the building and canceled all committee meetings last Friday and today and the Governor has announced that all state offices in Northern Nevada will be closed today.
What do these closures mean? Besides rescheduling meetings and bill hearings, the reverberations are minimal given we are still early in the Session - Legislators still have time to introduce their Bills and there are no upcoming committee deadlines. Should inclement weather continue to cause closures further in the Session... well let's not think about that right now.
-Zoë
Important Dates
| | |
| --- | --- |
| Last Day for Bill Introductions | March 27 |
| First House Passage Deadline | April 25 |
| Second House Passage Deadline | May 26 |
| Last Day of the 82nd Session (sine die) | June 5 |
---
ICYMI
Commissioner says GPS tracker placed on his car, joins Reno mayor to learn who did it
Nevada board to vote on $330M in additional Tesla tax breaks
---
#NVLEG
Bid to rid state constitution of slavery moves to ballot
Nevada voters will decide whether to get rid of slavery and involuntary servitude as a form of criminal punishment from the state constitution on the 2024 ballot, part of a growing push among some states to scrub outdated, century-old language that has stayed on the books.
The Nevada Senate unanimously passed the joint resolution on Feb. 23 after the Assembly took similar steps last week. The proposed amendment first passed the Nevada Legislature in 2021, though ballot measures must survive two consecutive sessions before going to a vote of the people.

Nevada Democratic statewide officials propose bills on elections, fentanyl and 'baby bonds'
Three statewide elected officials in Nevada are proposing bills about election workers, criminalizing opioids, and establishing financial bonds for babies. They spoke with reporters on Thursday about their goals for the 2023 Nevada Legislative Session.
---
CANNABIS
'Amsterdam of the West?': City not budging on pot lounge regulations
A week before a possible vote on rules for upcoming cannabis consumption lounges, the city of Las Vegas had not budged on a proposed 1,000-foot separation requirement between such establishments, a regulation applicants say could hamper turning the downtown area into the "Amsterdam of the West."
If Las Vegas were to approve the regulations, licenses for the 15 prospective provisional Nevada license holders who intend to open a location within city limits could start being issued as early as June. Clark County, the only other area municipality that opted into allowing the lounges, already established regulations for the up to 21 lounges it could allow.
---
EDUCATION
Governor Joe Lombardo Signs Senate Bill 124, Urges Support for Charter School Transportation Funding
Nevada Governor Joe Lombardo has signed a bill transferring money to education in the state. Senate Bill 124 ends a mining tax prepayment in the current fiscal year, rather than the first year of the next biennium.
The move will transfer roughly $70 million from the General Fund in Fiscal Year 2023 to the State Education Fund in Fiscal Year 2024.
"Due to our budgetary flexibility, it makes sense to end the mining tax prepayment in the current fiscal year," said Governor Joe Lombardo. "This new deposit of $70 million in the State Education Fund, however, is currently unbudgeted. I believe we should follow the recommendation of the Commission on School Funding and begin offering state-supported transportation to Nevada's charter school students. I plan to work with the Legislature to utilize a portion of these new funds to make that a reality."
---
ENERGY
Nevada Emerges as Leader in U.S. Energy and Security
The economic strategy released today by the Governor's Office of Economic Development (GOED), Realizing Nevada's Electric, Innovative, and Connected Future: 5-Year Comprehensive Economic Strategy, finds that the State's quickly growing clean tech industry, innovations, and investments have positioned Nevada to lead the U.S. in strengthening critical supply chains and securing energy independence.
"Nevada's natural resources, people, reasonable cost of living and doing business, and proximity to west coast tech-hubs have enabled innovation to flourish in the State," said Tom Burns, GOED Executive Director. "This new strategy will be critical to the continued growth of our economy."
---
ENVIRONMENT
US judge won't block huge lithium mine on Nevada-Oregon line
U.S. District Judge Miranda Du in Reno denied the opponents' request Friday for an emergency injunction to prohibit work at the largest known lithium deposit in the nation until the 9th U.S. Circuit Court of Appeals can hear their latest appeal. Her ruling clears the way for Lithium Nevada to begin construction as early as next week at the mine they say would speed production of raw materials for electric vehicle batteries critical to combatting climate change.
The conflict is driven largely by what Du described Friday as "tension" between environmental and economic trade-offs associated with efforts to speed the transition from fossil fuels emitting greenhouse gases to cleaner, renewable energy sources. "And there is, if nothing else, a tension between the macro environmental benefit that could result from the project and the micro (relatively speaking) environmental harm that will likely flow from" allowing the mine to go forward, she said. "This court does not resolve that tension here."
---
HEALTH CARE
Nevada needs more nurses and more physicians. But what will it take to make it happen?
Since the pandemic took hold, health care professionals have said the shortage has reached dire levels. One analysis from UNR's Nevada Health Workforce Research Center found Nevada would need more than 4,000 new registered nurses to meet the national RN-to-population average and that roughly two out of every three Nevadans live in an area with a shortage of primary health care providers.
In addition to nursing shortages, the state has been wracked by increasingly acute shortages of physicians and specialists, especially in areas such as neurology, psychiatry and cardiology. Though Nevada has expanded its medical student capacity over the last decade, medical school administrators told The Nevada Independent that simply graduating additional students from Nevada's medical schools widens only one end of the state's physician pipeline, pouring yet more students toward the same bottleneck: residencies.
Nearly 450,000 Nevadans could lose their no-cost Medicaid health coverage this year as pandemic emergency provisions wind down, according to state officials. Following a three-year grace period during the worst of COVID-19, Medicaid recipients will be required to reapply for benefits beginning April 1.

In Nevada, the number of Medicaid recipients swelled by 40 percent during the pandemic under federal emergency provisions that kept states from removing anyone from the rolls, increasing from 671,000 people to 938,000 over three years. Ryan High, executive director of the Silver State Health Insurance Exchange, estimates that 100,000 or more Nevadans might no longer qualify for the no-cost program and that some would turn to the exchange for coverage.
---
INFRASTRUCTURE

FAA awards $31 million to Harry Reid International Airport to improve baggage claim
Today, Senator Jacky Rosen's office announced that the Federal Aviation Administration will give $31 million to Harry Reid International Airport to upgrade Terminals 1 and 3. The funding is specifically targeted at upgrading the two terminals' baggage handling system. "The travel and tourism industries are key to the success of Nevada's economy," Rosen said in a statement. "The improvements made possible through this funding that I secured for Harry Reid International Airport will make long-overdue improvements to modernize the airport, replace aging and outdated infrastructure, and improve traveler experience."
---
2023 Legislative Session Resources
Click here to view a list of Bills of the 2023 Legislative Session.
Click here to view the list of upcoming committee meetings.
Click here to view the 120-Day Legislative Calendar.
---
Want to receive these roundups in your inbox? Sign up for our weekly newsletter below! 👇
Welcome to the Tom Clark Solutions weekly roundup!
Here is where we'll keep you informed on what is happening in Nevada politics.
---
Hello from Carson City!
It's been a fun and busy first twelve days of the 82nd Session. We are still in the beginning stages of the Session where a lot of issues have been discussed but what will become an actual piece of legislation is still nebulous. Though the hallmark policies that will define this Session are still taking shape, I thought I'd share some interesting statistics about the Session so far:
63 legislators, many of them are brand new.
42 members in the Assembly, one third are new. 28 are Democrats, 14 Republicans, aka a Supermajority for the Democrats.
21 members in the Senate, 13 are Democrats and 8 are Republicans, aka one vote shy of a Supermajority for the Democrats.
Why is that important? You must have a 2/3rds majority vote to pass any fee or tax increase, and to overturn a Governor's veto.
We maintained our status as the first legislature in the nation that has a majority of women, Republican and Democrat combined.
There are 781 registered lobbyists, 457 of those being "paid." That averages out to 12.39 lobbyists per legislator.
To date, 972 Bill Draft Requests (BDR's) have been submitted.
Deadlines
The deadline has passed for legislators to reserve their BDRs.
The next deadline we have is those bills getting introduced as, well, bills. We have until March 20 to make that happen, or not happen.
The surviving bills must be heard, amended and passed out of committee by April 14th.
Passed out of the House of Origin by March 25th. That's the big one.
Then the process starts all over again.
Bills will be amended; a lot of bills will die.

Important Dates
| | |
| --- | --- |
| Last Day for Bill Introductions | March 27 |
| First House Passage Deadline | April 25 |
| Second House Passage Deadline | May 26 |
| Last Day of the 82nd Session (sine die) | June 5 |
---
ICYMI
Oakland A's tap Nevada legislative lobbying firms as Vegas relocation efforts intensify
Poll: Plurality of Nevada voters approve of Lombardo, majority support voter ID
State's Democratic officers outline top priorities
Legislature's Democrats take aim at state party leader as political battle escalates
---
#NVLEG
The Nevada Independent has a fantastic one-stop-shop resource webpage for the Nevada Legislature. Check it out. 
Learn more about our newest legislators with the Nevada Independent's Freshman Orientation series. The latest profile is on Assemblyman Rich DeLong. 
Snaps and claps for Tabitha Mueller and Kristyn Leonerd for putting together this comprehensive Indy Resource Guide: Participating in the legislative session.
KUNR has a new podcast covering the Legislature called Purple Politics Nevada, created by Lucia Starbuck! There is a new episode every Friday- listen to her latest episode about teacher pay and class sizes here.
---
ECONOMY
Las Vegas airport reports record passenger volume in 2022
Harry Reid International Airport handled a record 52.7 million passengers in 2022, up more than 2% from the previous record set in 2019, according to a year-end report made public Feb. 6.
"We are no longer talking about an air travel recovery," Rosemary Vassiliadis, airport chief and Clark County Director of Aviation, said in a statement. "The trajectory of Las Vegas air travel throughout 2022 was nothing short of remarkable."
Nevada's rainy-day fund now over $900 million, highest balance in history
Nevada's rainy-day fund has now surpassed $900 million, the highest balance in its history and more than double what it was in early 2020, according to the state treasurer's office. The balance gained $516 million after a transfer from the state's general fund last week, Treasurer Zach Conine announced Thursday.
---
EDUCATION
Jara seeks $270 million to push Nevada to 'optimum' school funding
School leaders took their requests to the 2023 Nevada Legislature in Carson City this week, presenting a request for an increase of $270.8 million in per-pupil funding. The money is for fiscal year 2024, and keeps the Nevada on track for a 10-year incremental increase to "optimal" funding — a play to push funding past efforts that leaders say have been aiming too low.
---
ENVIRONMENT
2023 could be 'session of water bills' in the Legislature
This "is going to be the session of water bills" — or so Sen. Pete Goicoechea (R-Eureka) predicted at a conference in Reno last week. "Again, we're talking 23 bills," he added. "There'll be 30 or 40 different twists in this." Most of the bills are proposals and have not been formally introduced.
The legislation tackles developing issues across the state: Managing Humboldt River where groundwater pumping is connected to the flows of the river; How to share water in the Lower White River Flow System, a collection of groundwater basins outside of Las Vegas; Reducing use in aquifers where there are more rights to water than there is water to go around.
---
ENERGY
Redwood Materials wins $2 billion loan from Energy Dept.
Redwood Materials, a Nevada company that recycles batteries for electric vehicles and was founded by Tesla's former chief technology officer, has won a $2 billion green energy loan from the Biden administration. The company secured the conditional loan from the Energy Department's Advanced Technology Vehicles Manufacturing program, announced Energy Secretary Jennifer Granholm this Thursday to dozens of employees at Redwood's facility in Nevada with Gov. Joe Lombardo.
---
HEALTH CARE
Lawmakers mull loan forgiveness for mental health professionals
Under a bill heard in the Assembly Education Committee on Thursday, an already-existing loan forgiveness program would be expanded to include mental health professionals who commit to practicing in the state for two years in a hospital, outpatient facility, as a faculty member training behavioral health practitioners, or as a provider in a K-12 public school. "We need an infusion of behavioral health professionals now," said Julia Ratti, the board chair of the Washoe County Regional Behavior Health Policy Board and former state senator.
Nevada Attorney General Joins Multistate Coalition in Support of Medication Abortion at CVS, Walgreens Stores
Nevada Attorney General Aaron Ford announced yesterday that the AG's office has joined a multistate coalition of 23 attorneys general in support of abortion pills at CVS and Walgreens stores. The other states include California, Oregon, Maine, North Carolina and Vermont. "In the current climate, when there is a concentrated effort to roll back the rights we have been accustomed to for generations, we welcome this decision from CVS and Walgreens," Ford said.
---
INFRASTRUCTURE
Senator Cortez Masto says Nevada will receive over $3.5 million to help road safety
U.S. Senator Catherine Cortez Masto (D-Nev.) announced that Southern Nevada will receive $3,539,000 through the Safe Streets and Roads for All program to support projects that will improve road safety and prevent roadway deaths across the Las Vegas valley. Senator Cortez Masto funded this program through the Bipartisan Infrastructure Law.
---
2023 Legislative Session Resources
Click here to view a list of Bills of the 2023 Legislative Session.
Click here to view the list of upcoming committee meetings.
Click here to view the 120-Day Legislative Calendar.
---
Want to receive these roundups in your inbox? Sign up for our weekly newsletter below! 👇
Welcome to the Tom Clark Solutions weekly roundup!
Here is where we'll keep you informed on what is happening in Nevada politics.
---
Welcome to 2023!
We are all very excited for the beginning of the 2023 Nevada Legislative Session on Monday, February 6. The office will be ready, systems are in place, and in the words of the late Mills Lane, "Let's get it on."
Governor Lombardo laid out his budget and his vision during his State of the State Adress on January 23rd.
If you have an hour, this is must watch TV
But we've made it easy to review - read the written transcript here.
For an overview of the executive budget in an easy-to-read-format, click here.
The State of the State Address is an important kick off to the Legislature. Two days after the speech, meetings for the Legislative Commission's Budget Subcommittee started (session before The Session) where they hear from Department heads about their agency budgets. No decisions are made during this time - they're not in Session but the legislators that will decide the budget are getting a peek at what's to come.
-Tom

Important Dates
| | |
| --- | --- |
| First Day of the 2023 Legislative Session begins | February 6, 2023 |
until the 82nd Nevada Legislative Session begins.
---
ICYMI
Watch a replay of Jon Ralston interview Governor Lombardo about his SOTS
Democratic Response to the Governor's State of the State Address
Freshman Legislator Orientation series by the Nevada Independent
New dining options at the Legislative Building
---
ECONOMY
Tesla announces new $3.5B facility east of Sparks to build all-electric semi trucks
This week, Tesla announced plans to build a new $3.5 billion advanced manufacturing facility east of Sparks to build the company's all-electric semi trucks. The facility will be built at the Tahoe-Reno Industrial Center and is expected to create 3,000 jobs.
EDAWN State of the Economy: National recession likely, but northern Nevada ready to weather storm
Local economic experts said although a national recession is likely in 2023, northern Nevada will weather the storm better than other regions because of its more diversified economy. "We (won't) see many job losses associated with this recession, unlike prior recessions, because our manufacturing workforce will be working, our technology workforce will be working," said EDAWN CEO and President Mike Kazmierski.
---
ENVIRONMENT
Six states release consensus framework for Colorado River cuts — with California absent
Earlier this week, six of the seven U.S. states that rely on the Colorado River released a framework that outlines a potential strategy for federal water regulators tasked with making unprecedented cuts on an overused watershed that serves about 40 million people across the Southwest.
Notably, the plan failed to gain the support of California, seen as critical to making meaningful cutbacks, as the state with the largest apportionment of the river and priority legal entitlements to use water. And it's unclear how federal officials will regard a plan that leaves out a key state. John Entsminger, who leads the Southern Nevada Water Authority, said in a statement Monday that while the goal remains a seven-state deal, the six-state plan was a "positive step forward."
In the coming weeks, federal water officials will review the plan and could incorporate parts of it in an environmental review process to evaluate the short-term cuts to annual water use. The federal government will likely announce a regulatory action later this year.
General Motors conditionally investing $650M in Thacker Pass
General Motors Co. has conditionally agreed to invest $650 million in Lithium Americas Corp. in a deal that will give GM exclusive access to the first phase of a mine planned near the Nevada-Oregon line with the largest known source of lithium in the U.S. The equity investment the companies announced jointly on Tuesday is contingent on the Thacker Pass project clearing the final environmental and legal challenges it faces in federal court in Reno, where conservationists and tribal leaders are suing to block it.
---
GAMING
Nevada casinos close out 2022 with record gaming revenue figures
Fueled by a single-month record for the Strip in December, Nevada finished off 2022 with more than $14.8 billion in gaming revenue, blowing past 2021's $13.4 billion by 10.5 percent, the state's Gaming Control Board announced earlier this week. "The Strip accounted for the majority of the statewide increase in December," said control board senior economic analyst Michael Lawton. "The state's combined markets outside of the Strip only increased by 0.2 percent, or $914,000 compared to December 2021."
Lombardo names ex-judge George Assad to seat on the Gaming Control Board
Former Las Vegas judge George Assad, 71, who was a Las Vegas Municipal Court judge from 2002 until 2011, will have a four-year term as a member of the board that directs the statewide agency charged with regulating and enforcing laws governing Nevada's largest industry.
His appointment fills out the three-person board. Assad has been a commissioner with the Nevada Transportation Authority for more than a decade. The agency oversees the state's taxicab companies, limousine services and charter transportation industry. He replaces control board member Philip Katsaros, who did not seek reappointment to his board position.
---
HEALTH CARE
Nearly 100,000 Nevadans signed up for health insurance this year
Nevada Health Link has announced that nearly 100,000 Nevadans have enrolled in qualified, affordable health insurance plans during this year's Open Enrollment Period (OEP), which ran from November 1, 2022, through January 15, 2023.
Out of those who enrolled, about 18,000 were new enrollees, meaning they were not previously enrolled in a plan on the marketplace.
---
INFRASTRUCTURE
Senator Cortez Masto says Nevada will receive over $3.5 million to help road safety
U.S. Senator Catherine Cortez Masto (D-Nev.) announced that Southern Nevada will receive $3,539,000 through the Safe Streets and Roads for All program to support projects that will improve road safety and prevent roadway deaths across the Las Vegas valley. Senator Cortez Masto funded this program through the Bipartisan Infrastructure Law.
---
2023 Legislative Session Resources
Click here to view a list of Bills for the upcoming 2023 Legislative Session.
Click here to view the list of Bill Draft Requests (BDRs) for the upcoming 2023 Legislative Session.
Click here to view the list of Senate and Assembly Committees.
---
Want to receive these roundups in your inbox? Sign up for our weekly newsletter below! 👇
Welcome to the Tom Clark Solutions weekly roundup!
Here is where we'll keep you informed on what is happening in Nevada politics.
---
Preparing for a new year, a new Governor and the upcoming 2023 Legislative Session.
There is A LOT of stuff going on during this already busy holiday season.
Governor-Elect Joe Lombardo and his team are busy preparing and planning the transition of power in January. There is a lot to do in a short amount of time, but with naming Ben Kieckhefer as his Chief of Staff and selecting experienced leaders to his transition team, the Governor-Elect has set himself up for success. We look forward to celebrating with the Governor-Elect and his entire team at their Gubernatorial Inauguration Ball in January!
With the first day of the 82nd Session just two months away, we are starting to see how the Session will shape up: the Assembly has announced their Committee Chairs, the Senate has announced full Committee appointments, and the deadline to submit BDRs for legislators is this Saturday. Also, in stark contrast to 2021, the social events calendar is quickly filling up. Though there is a lot going on, we are so excited for February!
This will be our last newsletter of the year. (It always goes by so fast.) We'd really appreciate your feedback on how we can improve it for our readers. If you have any ideas or suggestion, please feel free to send me an email!
Also, if you still have some gift shopping to do, why not gift your friends and family something that celebrates Nevada. Travel Nevada has provided this great Nevada Pride Shopping Guide to get you started.
Have a wonderful rest of your year and keep an eye out in your inbox for our newsletter in January.

Important Dates
| | |
| --- | --- |
| First Day of the 2023 Legislative Session begins | February 6, 2023 |
until the 82nd Nevada Legislative Session begins.
---
ICYMI
Asm. Rochelle Nguyen to be appointed to fill Sen. Chris Brooks' vacancy
Joe Lombardo announces Chairs of Transition Team Working Committees
Jill Tolles named Guinn Center Executive Director
---
ECONOMY
Economic Forum: Lombardo, lawmakers will have $11.4 billion for two-year budget
Gov.-elect Joe Lombardo and Nevada lawmakers will have $11.4 billion in projected tax revenues to construct the next two-year general fund budget covering July 2023-June 2025, marking a nearly $2.3 billion increase over the current two-year budget set in 2021.
The Economic Forum projects a 2.9% increase in state tax revenues over the next two years, beginning July 2023. The major increase in the size of the budget was driven by soaring collections from sales and gaming taxes, which have boomed amid an ongoing period of high inflation and relatively strong consumer spending.

Nevada announces winners of provisional cannabis lounge licenses
This week, the Cannabis Compliance Board awarded 20 entities with "prospective" independent consumption lounges, including 10 "social equity" applicants. These applicants were chosen through a random selection process out of a pool of 80 submitters.
---
EDUCATION
Washoe school board appoints new trustee to serve District E
The Washoe County School Board has appointed Alex Woodley as the next trustee for District E, which covers the northwest section of Reno and parts of Lemmon and Panther Valleys. Woodley was sworn into office right after the votes were tallied Tuesday at a special board meeting. Woodley emerged as the favorite after the six trustees participated in a ranked-choice voting-like system.
Woodley is replacing former Board President Angie Taylor, who was recently elected to the Nevada Assembly. Woodley will serve out the remainder of Taylor's term, which ends Jan. 5, 2025.
---
ENVIRONMENT
Biden pledges to designate Avi Kwa Ame monument in Nevada honoring tribes
On Wednesday, President Joe Biden announced that he would designate the Avi Kwa Ame monument through a proclamation.
The proposed Avi Kwa Ame National Monument will protect sacred land and connect sensitive desert landscapes, spanning from the Mojave National Preserve in California to the Lake Mead National Recreation Area. Avi Kwa Ame, or Spirit Mountain, is considered a spiritual center and a sacred area for 10 Yuman-speaking tribes, in addition to the Hopi and Chemehuevi Paiute.
---
GAMING
California developer plans to build a casino resort near Reno convention center
San Diego-based Elevation Entertainment submitted plans to the City of Reno for a 200-room hotel-casino to be constructed on a long-touted but still empty 20-acre site near the Reno-Sparks Convention Center, at the intersection of South Virginia Street and Kietzke Lane.
The project carries the working title of Firecreek Crossing Resort-Casino, which incorporates the name of the neighboring retail and entertainment complex. The developer said the project's cost is being determined. The plans include a 65,000-square-foot casino, restaurants and an outdoor pool deck atop the hotel tower. They hope the city can approve the project by next summer, with construction beginning in 12 – 18 months.
Vici To Take Full Ownership of MGM Grand, Mandalay Bay Real Estate in Deal Valued at $5.5 Billion
Another change in ownership on the Las Vegas Strip. Vici Properties is set to become full owner of the MGM Grand Las Vegas and Mandalay Bay Resort and Casino real estate, following its acquisition of the remaining interest in the properties from Blackstone Real Estate Income Trust.
Gaming real estate investment trust Vici currently holds 50.1% interest in the joint venture, which it shares with BREIT, that owns the MGM Grand Las Vegas and Mandalay Bay properties. Through this deal, Vici will acquire BREIT's 49.9% interest in the joint venture for a cash consideration of roughly $1.27 billion. It also will assume Blackstone's pro-rata share of existing property debt. The deal values the properties at $5.5 billion and represents another step in the ownership of these Las Vegas Strip properties.
---
HEALTH CARE
Nevada to receive over $35 million after Opioid Litigation Settlements
Nevada Attorney General Aaron D. Ford announced that Nevada entered two additional opioid litigation settlements, bringing in tens of millions of dollars to assist with abating the opioid crisis in the state. Nevada will receive $32.2 million from a multistate settlement with Walmart and $1.5 million from a settlement – not negotiated as part of a multistate deal – with American Drug Stores. In addition, the Mallinckrodt bankruptcy plan has been finalized, resulting in $1.8 million for Nevada.
---
HOUSING
State of Nevada completes awards for $500 million Home Means Nevada initiative
This week, Governor Sisolak and the Nevada Housing Division announced the final awards for the $500 million Home Means Nevada affordable housing initiative, completing the singe-largest investment into affordable housing seen by the state.
This program was initially launched in April. The full is of awardees can be viewed at the link above.
---
2023 Legislative Session Resources
Click here to view a list of Bills for the upcoming 2023 Legislative Session.
Click here to view the list of Bill Draft Requests (BDRs) for the upcoming 2023 Legislative Session.
Click here to view the list of Senate and Assembly Committees.
---
Want to receive these roundups in your inbox? Sign up for our weekly newsletter below! 👇
Welcome to the Tom Clark Solutions weekly roundup!
Here is where we'll keep you informed on what is happening in Nevada politics.
---
The 2022 Mid-Term General Election has been decided even though election officials in each Nevada county continue to finalize the outcome. Mail ballots have been counted, uncertain ballots have been "cured" and the final canvass will be delivered to each County Commission for certification.

Yes, it took a long time to count the ballots and people were anxious to get the results, but the prolonged announcement was due to process, not politics. For example, it took time to count every vote that was mailed or dropped off at election centers. If a signature on a mail-in ballot was questionable, the voter was notified, and the ballot needed to be "cured" by the voter.

I suspect the Nevada Legislature will try and address these issues when they convene in February 2023.
Election Outcome
Nevada was again the focus of a lot of national attention, especially the race for the US Senate. Incumbent Democrat Catherine Cortez Masto faced a difficult challenge from former NV Attorney General and gubernatorial candidate, Adam Laxalt. Majority control of the US Senate once again hinged on the outcome of the race. Catherine Cortez Masto was declared the winner and Adam Laxalt conceded on November 15, 2022.
The race for Governor was hotly contested between Incumbent Democrat Steve Sisolak and Republican Sheriff from Clark County, Joe Lombardo. The Nevada electorate is known to split their ballot, and this was evidenced by Joe Lombardo winning the contest over the incumbent by nearly 15,000 votes.
To view the rest of the 2022 election results, visit our updated 2022 Election Candidate List.
All 17 counties will canvass their votes on Friday, November 17, a statutorily required process to declare, examine, and certify the election results.
To learn more about canvassing the vote in Nevada, check out this handy dandy infographic the Legislative Counsel Bureau Research Division has provided.

---
POST-ELECTION STORIES
Laxalt Concedes to Cortez Masto: "Any challenge would not alter the outcome."

All 3 ballot questions approved by Nevada voters
Governor-Elect Lombardo Announces Transition Team

Lombardo pledges to be education governor
Nevada's three vulnerable House Democrats survive re-election challenges
---
2023 LEGISLATIVE SESSION
Democrats will maintain control of both houses in the Nevada Legislature:

Senate: 13 Democrats, 8 Republicans
Assembly: 28 Democrats (2/3rds Super Majority), 14 Republicans
Assembly Speaker Pro-Tem, Steve Yeager, is expected to take the helm as Speaker of the Assembly. The Senate will continue to be led by Majority Leader Nicole Cannizzaro. Senator Heidi Seevers Gansert has been chosen as Minority Leader. PK O'Neil has been chosen as the Assembly Minority Leader.
Further reading:
Democrats expected to retain control of Legislature, remain short of supermajority
After election, new faces make up bulk of 2023 legislative leadership
---
---
Want to receive these roundups in your inbox? Sign up for our weekly newsletter below! 👇
Welcome to the Tom Clark Solutions weekly roundup!
Here is where we'll keep you informed on what is happening in Nevada politics.
---
Now we wait.
Being a Battle Ground State is exciting. Being one of the last states to count, cure and report results is not.
Registrars in the urban counties (Washoe and Clark) have reported that tens of thousands of ballots that were dropped off at voting locations remain to be counted. That's frustrating but I give our Registrars, their staff and the many, many volunteers a lot of credit for working long hours to make sure that the outcome is credible, that EVERY vote matters and must be counted. We don't expect results for several key races, like U.S. Senate and Governor, to be known until Saturday.
The shift we will see in the next couple of days will make many people very suspicious of the outcome. Mail and drop off ballots tend to favor Democrats and we're already seeing that trend as the lead Republicans have eroding.
The world is watching the Silver State very closely. National media organizations get very excited as new numbers are reported. The power balance of the US Senate is at stake. As Jon Ralston, CEO of the Nevada Independent and a regular on MSNBC and other national news channels likes to say, "We Matter."
We do matter and we need to be patient so that we can have confidence in the outcome regardless of who wins and loses.
The Nevada Secretary of State's office has regular updates, but we are keeping a closer eye on the individual county websites, especially Clark and Washoe. You can find links to all of them below.
Or, watch the national news. They're watching us. 👀

---
ELECTION RESULTS
Daily press conference updates from Registrar Joe Gloria at 11:30 a.m.
Last updated 11/09 at 5:55 P.M. 
Last updated 11/09 at 9:33 P.M. 

Nevada Secretary of State (for cumulative totals and county by county breakdowns)
---
PROJECTED WINNERS
The Nevada Independent has projected several winners up and down the ballot. Notably Aaron Ford (D) is anticipated to prevail over Sigal Chattah (R) and win reelection to the Attorney General's office.
Click here for the complete list of projected winners.
---
---
Want to receive these roundups in your inbox? Sign up for our weekly newsletter below! 👇