Welcome to the Tom Clark Solutions weekly roundup!
Here is where we'll keep you informed on what is happening in Nevada politics.
---
It's happening (finally).
Ballots have been mailed and received, early voting has started and we can see the light at the end of this tunnel.
Let's hope it's not a train.
This is also the time when we get asked about candidates that are running and while we do have our personal suggestions, during these vitriolic times I usually point people to our Candidate List where you can click on a candidate's name to view the campaign website, bio or other link.
Or Google.

Here are some other resources:
Voter Guides
I am also asked for my predictions for US Senate, Congress, and the Constitutional offices. I have them. They are sealed in an envelope that will be opened after the Election. Only my family, close friends, and clients are privy to such valuable information, not that it really maters…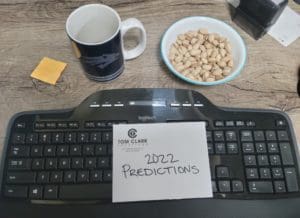 My most public predictions, that I've made before: This will be an unprecedented, unpredictable election. Lawsuits will be filed, outcomes will be delayed, fraud will not be a factor.

Let us not forget that October 31st is NEVADA DAY! It is observed by the State on Friday, 10/28 and the best damn parade in the country is in Carson City on Saturday. Every candidate that matters will be there, beyond that the tradition is a lot of good ole Nevada style fun! You really need to witness Single Jack Rock Drilling to call yourself a true Nevadan.

Not feeling the Nevada Day vibe? Watch this: Home Means Nevada music video

Please, be kind to your poll workers.

Important Dates
| | |
| --- | --- |
| General Early Voting | October 22 – November 4 |
| General Election | Tuesday November 8, 2022 |
---
ICYMI
Update: Washoe County ballots not missing — they're still in the mail
How rural Nevada became the next battleground for the 'Big Lie'

Sabato's Crystal Ball: Nevada Legislature Rating Changes Favors Republicans
---
ECONOMY
5 things to know about Nevada's economy
Last week, the Nevada Department of Employment, Training and Rehabilitation gave a presentation to the Economic Forum with updates about the state of Nevada's economy. The Economic Forum is required to provide a forecast of general fund revenue for the next couple of fiscal years, which the governor uses in developing the executive budget. A subsequent meeting in May will guide the Legislature in finalizing that budget. Below are five key takeaways from DETR's presentation.
Employment has fully recovered from the pandemic
Unemployment is generally low
Wages are rising significantly
People are quitting their jobs at high rates
With concerns of national recession, Nevada in a 'better spot' than other states
2023 State Business Tax Climate Index: Nevada Ranks Seventh
The Index is designed to show how well states structure their tax systems and provides a road map for improvement.
---
EDUCATION
Nevada lieutenant governor wants cities, counties to add school board members
Nevada's lieutenant governor is proposing that county commissions and cities have the ability to add members to school district boards. Lisa Cano Burkhead filed a bill draft request that would have each county commission appoint a school board president, who would set the agenda and govern trustees, a spokesman for her office announced Thursday.

If the bill were to be passed, four more trustees could be added to the Clark County School District Board of Trustees. Clark County commissioners would appoint a school board president, while the cities of Las Vegas, North Las Vegas and Henderson would be able to appoint their own trustees.
---
ENVIRONMENT
Lithium Americas signs agreement with local tribe
The Elko Free Daily Press reports that Lithium America Corp., the company working toward developing the Thacker Pass lithium mine north of Winnemucca, announced last week that it has entered a Community Benefits Agreement with the Fort McDermitt Paiute and Shoshone Tribe. The CBA establishes a framework for continued collaboration and defines the long-term benefits for the tribe, the largest Native American community within the vicinity of the project.

Lithium Americas said the CBA is a product of years of engagement, job training and relationship-building between the company and the Fort McDermitt Paiute and Shoshone Tribe. The CBA states that Lithium Americas will continue to provide additional training and employment opportunities, and the company will support cultural education and preservation.

Also, Lithium Americas has agreed to build an 8,000 square foot community center for the tribe that includes a daycare, preschool, playground, cultural facility and communal greenhouse to support reclamation efforts and provide income for the tribe.
State puts $100M toward water conservation
Last week, the Interim Finance Committee approved $100 million in funding for water conservation projects across the state and another $6.4 million to modernize the state's data on groundwater basins.

The Nevada Department of Conservation and Natural Resources will be tasked with allocating those funds for individual projects, and the department's director, Jim Lawrence, said he plans to move fast to get things moving to meet the urgent water needs across the state. The department will set up a technical advisory committee immediately to create the criteria that will be used to award funding to those projects.
---
GAMING
More rules coming on esports wagering
The eight-member committee guiding the Nevada Gaming Control Board on developing regulations for wagering on esports unanimously voted to forward a regulatory proposal to the board and the Nevada Gaming Commission.

The Esports Technical Advisory Committee on Monday recommended amendments to Regulation 22, the board's regulation overseeing race books and sports pools.

If the amendment is adopted by the board and commission, bettors in Nevada will soon be allowed to wager on a variety of video game competitions staged online or in Nevada venues.
---
HOUSING
Amid grad student pay crunch, UNR looks to private sector for housing solution
Last week, the Board of Regents approved a three-year lease agreement between UNR and Reno City Center (formerly the old Harrah's tower) that could pave the way for at least some affordable housing units dedicated to Northern Nevada graduate students. By the fall of 2023, the Reno City Center will host 85 graduate students from UNR.

The new units will cost $995 per month for a studio-sized space, with annual increases of up to 5 percent per year baked into the contract — well below the current median Reno rent of $1,520. Those increases amount to roughly $1,100 per-month rent by the third year of the deal, and as much as $1,269 per month at the end of six years, should the deal be extended.
---
INFRASTRUCTURE
Massive $500 million project to bring 2 new concourses to Reno-Tahoe Intl. Airport
Reno-Tahoe International Airport begins its' $500 million remodel bringing two new concourses, specifically Airport CEO Daren Griffin and other dignitaries held a news conference Thursday morning announcing the project which will demolish concourses B and C and build new ones.
---
OUTDOOR RECREATION
2022 Nevada Transportation, Trails, and Tourism Summit
The Nevada Transportation, Trails, and Tourism Summit shapes the future of active transportation and trail-based recreation in Nevada by bringing our communities together to network, and to discover and share best practices. The Summit will include keynote and plenary sessions, educational panels, presentations, technical workshops, and strategic sessions designed to activate partners to advance our shared efforts. But that's not all - the Summit will also feature a fun evening awards party and other activities designed to support networking and meeting new people. We will also promote stewardship, community engagement, active transportation, and outdoor recreation.
When: November 8-10, 2022
Where: Reno, NV
Tickets: $20
---
What we're doing this Interim
The 2021 Nevada Legislature passed Assembly Bill 443, Legislation that fundamentally changed the way the Legislature operates between Sessions. The newly formed Interim Standing Committees have begun meeting, hearing overviews of their mission and setting agendas for the next eleven months.
Click here to view a list of upcoming Joint Interim Standing Committee meetings.
Click here to view the list of Bill Draft Requests (BDRs) for the upcoming 2023 Legislative Session.
2021 Redistricting Maps
The new boundaries would give 14 of the 21 state Senate districts and 27 of the 42 Assembly districts a voter registration advantage for Democrats over Republicans of more than 4.5 percent.

The Nevada Independent
Please see the links below to view the new district lines for Nevada Assembly, Senate and Congressional delegation.
---
Want to receive these roundups in your inbox? Sign up for our weekly newsletter below! 👇