Welcome to the Tom Clark Solutions news roundup!
Here is where we'll keep you informed on what is happening in Nevada politics.
---
One Deadline Down, Four More to Go
This past Friday, April 14, was the deadline for a bill to be passed out of its Committee of Origin, meaning that if a bill has not been voted out of its committee nor been granted a deadline exemption, "no further action [is] allowed," which is legislative jargon for "this bill is dead."
Friday's deadline ended the legislative journey for 239 bills, i.e., 25% of the 955 bills introduced this session are no more. For the most part, these bills that failed to meet the deadline will not be seen again, though never say never. Legislators, lobbyists and advocates alike will try their darndest to resurrect their policies that died, typically in the form of an amendment to a bill that is alive and well. As the saying around the building goes, no bill is completely dead until sine die.
The next deadline is First House Passage on April 25th, meaning the bill must be passed out of its House of Origin in order to continue on in the legislative process. While these deadlines cull lots of legislation, plenty of bills have been granted deadline exemptions,154 to be exact, and even more deemed eligible for exemption (75 Senate bills and 170 Assembly bills), meaning these bills will become exempt once they are referred to the Senate Finance Committee or Assembly Ways & Means Committees, aka the money committees.
There are less than 50 days left in this Session and things are heating up. They money committees are now regularly meeting on Saturdays, the Economic Forum (where legislators learn how much money the state can spend for the next biennium) meets in less than two weeks, and the Governor's office has started indicating which bills will be vetoed, thus the beginning of the horse trades to be had between the Governor and the Legislature to achieve their respective policy agendas.
-Zoë
Important Dates
| | |
| --- | --- |
| First House Passage Deadline | April 25 |
| Committee Passage (Second House) | May 19 |
| Second House Passage Deadline | May 26 |
| Last Day of the 82nd Session (sine die) | June 5 |
---
ICYMI
2024 Senate Race Ratings: Nevada Leans Democrat
Kamala Harris visits UNR, talks reproductive health with Mayor Hillary Schieve
I was very fortunate to have received an invitation to this event, which President Sandoval stated is the first official White House event hosted at the University of Nevada, Reno. (Based on conversations with our in-house UNR expert Keith Lee, the last time a sitting President or VP has visited UNR was when President Reagan visited to support the GOP ticket for the 1982 election.)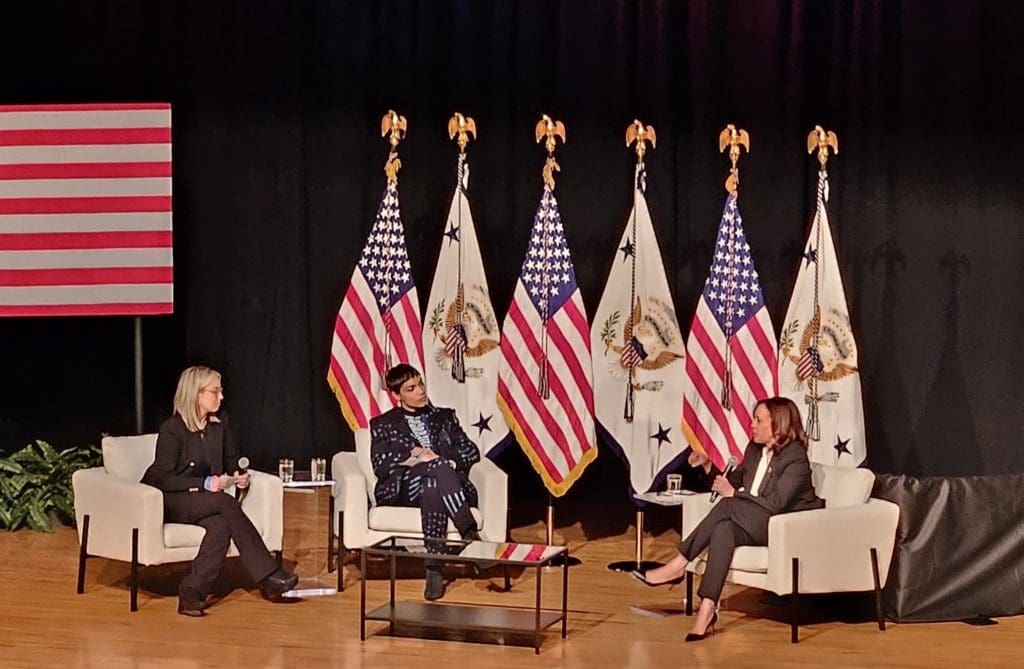 Mayor Hillary Schieve, Actress Rosario Dawson and Vice President Kamala Harris
at Nightingale Concert Hall on April 18, 2023. - Zoë
---
#NVLEG
By the numbers: What bills lived, died after Legislature's first major deadline
'That's who Heidi is'; 18 years after starting career, Seevers Gansert again takes leading role
State Democrats Unanimously Pass Resolution Adding Reproductive Rights to the Nevada Constitution
---
EDUCATION
Lawmakers vote to roll back restorative justice law, with lone legislator opposed
A pair of bills, including one from Gov. Joe Lombardo, that could repeal parts of a so-called restorative justice law from 2019 that placed restrictions on student suspension and expulsion were approved by the Assembly Education Committee last Thursday. A single lawmaker — Assemblywoman Clara Thomas (D-North Las Vegas) — voted against the bills, citing her desire to see students rehabilitated before they become part of the criminal justice system. The bills were in reaction to escalating, and at times violent, student behavior. Some cases resulted in injuries to teachers and school staff. Some school officials have said the 2019 bill limits the consequences students could face for violent acts.
Nevada State Board of Education discuss changing high school start times during workshop
Right now, all major high schools start at 8 a.m. or earlier. During the workshop this past Saturday, Nevada State Board of Education President Felicia Ortiz said studies show that later start times allow teenagers to get more sleep, resulting in better grades and attendance. This is the first step in the process.
---
ENERGY
Western Transmission Cleared to Move Alternative Energy from Wyoming to Nevada
The Bureau of Land Management (BLM) approved a 732-mile transmission line across federal lands to move wind energy to Nevada from Wyoming. BLM issued the notice to proceed (NTP) for the TransWest Express Project (TWE), which would carry 3 GW of capacity generated from the largest onshore wind generation project in North America, according to BLM. Denver-based TransWest Express LLC heads the project.
---
ENVIRONMENT
Federal officials lay out options for Colorado River cuts if no consensus is reached
Earlier this week, federal water officials released the draft of a much-awaited document outlining potential major short-term cuts to stabilize a Colorado River shrinking due to overuse and drought — unless the seven states that rely on the watershed come up with an alternative. Officials made it clear that they still wanted the states to reach a consensus on what painful cuts might look like as any action that is taken by the federal government faces a risk of litigation.
John Entsminger, head of the Southern Nevada Water Authority, called the draft "the next step in the process to find workable solutions to protect water supplies for 40 million Americans and more than a trillion dollars in economic activity."
---
GAMING
Lottery passes Assembly as lawmakers weigh several changes to Nevada Constitution
On Monday, the Assembly passed Assembly Joint Resolution 5, which would repeal the state's 159-year-old constitutional ban on lotteries. The vote was nearly along party lines, with Democratic Assemblymembers in support and Republicans in opposition. Assemblymember Shrondra Summers-Armstrong was the only Democrat to vote in opposition. As with any constitutional amendment originating in the Legislature, AJR5 must pass two successive legislative sessions and then be approved by a simple majority of voters at the next general election before implementation. Sponsor Assemblyman C.H. Miller's proposal is now in the Senate.
Commissioners could chop more than a dozen Nevada gaming regulations
On Thursday, the Nevada Gaming Commission discussed 16 regulations designated for elimination as state gaming regulators seek to complywith a January directive issued by Gov. Joe Lombardo tasking all state agencies with reviewing regulations and recommending at least 10 for removal by May 1.
The regulation subsections are within nine of the state's 37 gaming regulations and, under state gaming law, the control board and gaming commission will have to hold follow-up hearings to officially remove the subsections.
---
OUTDOOR RECREATION
U.S. Interior Secretary celebrates Nevada's new national monument
Last week, U.S. Interior Secretary Deb Haaland joined members of Nevada's congressional delegation and tribal leaders to celebrate Avi Kwa Ame, the state's newly designated national monument, saying the recognition of the desert mountain heralds a "new era" of environmental conservation in which the federal government and tribal nations will work together to maintain protected areas.
PHOTOS: Ice Age Fossils State Park, Nevada's newest, nears completion
Ice Age Fossils State Park in North Las Vegas is nearly complete, and the finish line is closer than ever thanks to a $3.5 million donation to the state from the Leona and Harry Helmsley Charitable Trust. The park is not open to the public yet, although that's expected by the end of this year. When it opens, the visitors center will offer hikers information about the site, its history and a re-creation of how it looked at one point in time — which was wet, cool and marshy.
---
2023 Legislative Session Resources
Click here to view a list of Bills of the 2023 Legislative Session.
Click here to view the list of upcoming committee meetings.
Click here to view the 120-Day Legislative Calendar.
---
Want to receive these roundups in your inbox? Sign up for our weekly newsletter below! 👇