Welcome to the Tom Clark Solutions news roundup!
Here is where we'll keep you informed on what is happening in Nevada politics.
---
The Nevada legislature is limited to 120 days so technically day 60 is the halfway point. In legislative time, the real halfway point was yesterday, the deadline for bills to be passed out of the "House of Origin."
If a bill was successful and is alive today it has probably been amended, declared exempt, or is simply not consequential. If a bill didn't survive, you can bet that legislators and lobbyists are scrambling to get a copy of the "Index and Tables", a legislative digest that lists by subject or statute every bill introduced this session. This important tool will tell you if a bill survived that you may be able to amend with language from your "dead" bill.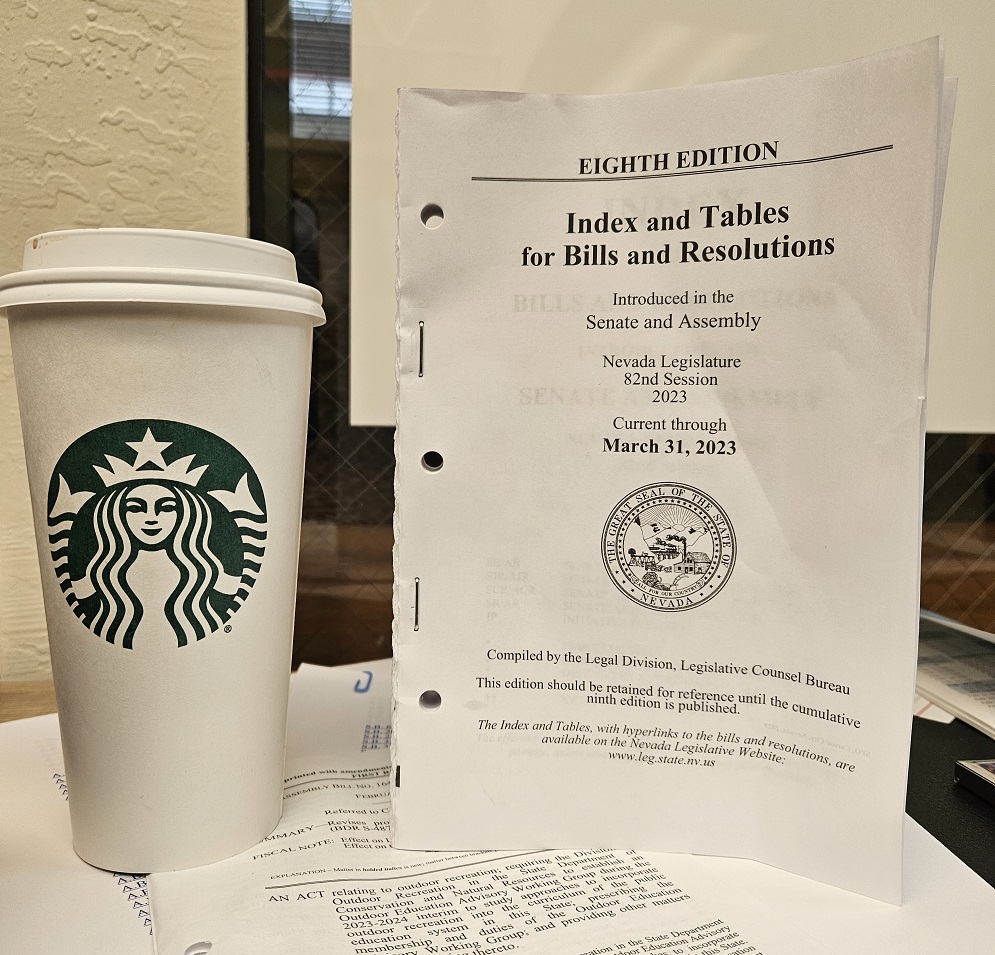 We are definitely on the downward slope of this legislative session. The run to get bills out of committee and the "Second House" is shorter than the first. The theory is that the bill has been debated, vetted, amended so it should be smooth sledding. History tells us that many lobbyists and legislators will get out over their skis and amendments will be shredded.  
I love this time of year in Carson City. The sun is shining, folks are outdoor dining. But like the Northern Nevada weather, don't be surprised if there are a few more storms before sine die.
-Tom
Important Dates
Economic Forum
May 1
Start Resolving Budget Differences
May 8
Committee Passage (Second House)
May 19
Second House Passage Deadline
May 26
Budget Bills Introduced &
Exempt Bills from Committee
May 31
Last Day of the 82nd Session (sine die)
June 5
---
ICYMI
Court sanctions commissioner for deletion of texts in Red Rock dispute
Court hearing scheduled in GPS tracker lawsuit
Biden makes 2024 presidential run official
Adam Laxalt joins PAC supporting DeSantis
---
#NVLEG
Potential deal for A's relocation to Las Vegas could rely on $500 million in public financing
Lombardo drops bid to create cabinet secretary positions in governor's office
Bills that failed to meet First House Passage deadline
---
EDUCATION
The Governor's Restorative Justice bill, AB330, passed out of the Assembly with 38 Yeas and 4 Nays, all southern Nevada Democrats. This bill is part of Governor Lombardo's legislative policy agenda for this Session. 
---
ENERGY
NV Energy bills projected to skyrocket in July
The average NV Energy bill for July is expected to reach $470 in Southern Nevada, up from $337 last year, and the average bill in Northern Nevada is projected at $212, up from $159 in 2022, says Nevada State Consumer Advocate Ernest Figueroa. "Due to public policy costs, past legislation and high natural gas prices, these rates will continue to go up for the foreseeable future," Figueroa testified this month before lawmakers.
In addition to rate hike requests to cover capital costs for Greenlink, is the utility's plan to recoup costs for building, operating and maintaining a network of electric vehicle charging stations throughout the state at a cost of $100 million to be borne by ratepayers, those with and without EVs. Ratepayers will be charged a fee based on their residential power usage.
---
GAMING
Gaming revenue declines in March despite state's 25th straight billion-dollar month
March gaming revenue topped more than $1.312 billion statewide — the 25th consecutive month the state surpassed the $1 billion mark. But the result was just the third time in the past 12 months the state's casinos recorded a decline in gaming revenue figures from the previous year, according to figures released this week by the Gaming Control Board. On the Strip, gaming revenue declined 2.9 percent in March to almost $724.6 million, which analysts blamed on high-end baccarat play.
Record-breaking snowfall in Northern California prevented Reno and Lake Tahoe's largest customer segment from visiting Northern Nevada's casinos and resorts during the first three months of the year. Gaming revenue in Washoe County fell more than 6 percent in March with Reno revenue down 7.4 percent. Casinos in North Lake Tahoe saw a 17.7 percent decline and the South Lake Tahoe market's gaming revenue was off 34 percent.
---
HOUSING
Cortez Masto-led push yields $4.5 million in new affordable housing funds for Nevada
U.S. Senator Cortez Masto (D-Nev.) announced that the Federal Home Loan Bank of San Francisco (FHLB-SF) is directing $4.5 million in targeted funding to the state of Nevada to help build more affordable housing and support down payment assistance. Federal funds will provide 7,129 new affordable units to Nevada families this year with a similar number expected next year – nearly double the state's pre-pandemic amount.
---
HEALTH CARE
Fatal fungus outbreak worries Nevada lawmakers, more help wanted
Nevada's entire congressional delegation is calling upon the federal government to do more to fight a potentially lethal fungus causing the largest outbreaks in the country at Southern Nevada hospitals and long-term care facilities.
In a letter Friday to the director of the Centers for Disease Control and Prevention, the delegation asks the federal public health agency to take decisive action against fungus Candida auris and to "swiftly deliver necessary resources to the public health professionals and health care providers in Nevada on the front lines of this outbreak."
Nevada Medicaid Warns of Renewal Scams
Scammers are trying to take advantage of Nevadans who may need to reapply for Medicaid or transition to other insurance, as the state unwinds from the federal public health emergency.
"Medicaid renewals have restarted in Nevada, and we may be reaching out to remind you to complete and return any necessary paperwork to maintain your health care coverage," said Nevada Medicaid Administrator Stacie Weeks. "Nevada Medicaid will never charge you or ask you for money to update your information or to renew your coverage."
---
INFRASTRUCTURE
Las Vegas-to-California bullet train gets bipartisan backing
A bipartisan congressional group from Nevada and California asked the Biden administration Monday to fast-track federal funds for a private company to build a high-speed rail line between Las Vegas and the Los Angeles area.
All six of Nevada's elected federal lawmakers and four House members from California sent the letter to U.S. Transportation Secretary Pete Buttigieg. They said they're on board with a proposal from Brightline West to spend more than $10 billion to lay tracks along the Interstate 15 corridor.
---
OUTDOOR RECREATION
NDOR names Denise K. Beronio as new Administrator
The Nevada Division of Outdoor Recreation (NDOR) is excited to announce that Denise K. Beronio has been appointed as Administrator, effective April 11. She will take over for Colin Robertson, who resigned as Administrator in February 2023 to return to his passion working for the Nevada Museum of Art. As Administrator, Beronio will help promote Nevada's outstanding outdoor recreation opportunities and the conservation of its natural environment.
"Denise Beronio is a long-time Nevadan and a life-long outdoor advocate," said NDCNR Director James Settelmeyer. "She has always supported conservation and outdoor recreation through her work and her passion for wildlife. I am confident she will help Nevada continue to thrive as an accessible, equitable, and unique outdoor destination."
---
2023 Legislative Session Resources
Click here to view a list of Bills of the 2023 Legislative Session.
Click here to view the list of upcoming committee meetings.
Click here to view the 120-Day Legislative Calendar.
---
Want to receive these roundups in your inbox? Sign up for our weekly newsletter below! 👇